Ram Trucks Sends Chrysler Engineer Fishing
By editor on Jan 29, 2011 | In Bass Tournaments, BASS Elites, BASS, Bassmaster Classic, Pro Anglers, Ryan Said, Sponsorship

Chrysler News
by Mike Driehorst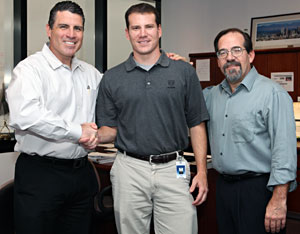 Ram Brand CEO Fred Diaz meets with Ryan Said and his dad, Fred Said Jr., during Ryan's final week with Chrysler before taking a leave to compete at the Bassmaster Classic and on the Bassmaster Elite Series. Photo Credit: Chrysler
At the end of January through early July, Chrysler Engineer Ryan Said will make his mark on some of the best lakes in the Southwest U.S. during the Bassmaster Classic in New Orleans and the 2011 Bassmaster Elite Series. During the series, Said's primary sponsor will be Ram Trucks – supplying Said with, among other things, a 1500 Ram Outdoorsman.
"I've been fishing all my life," said Said, 30, who has been entering fishing tournaments since he was 18.
Said's dad, Fred Said Jr., who also works at Chrysler and is in the Energy Management Development Lab, said he and Ryan started fishing together when Ryan was 4.
"Since the time Ryan caught his first sizable bass, there's been no turning back," he said.
In talking about the Ram sponsorship, Ryan Said added, "I'm excited about Ram Trucks' sponsorship. It's a compliment to fisherman that Ram designed a truck geared for the outdoor market."
Said, a product engineer in the airbags/steering/seatbelts group, will be a rookie on the Bassmaster Elite Series. He qualified for the series after winning the top spot – out of 120 anglers – during the three-day Bassmaster Northern Open Tour in September 2010.
The Bassmaster Classic runs Feb. 18-20, and is an invitation-only event. It will be broadcast live on ESPN2.
Following that, the Bassmaster Elite Series kicks off March 10 – as 101 anglers head for the Sunshine Showdown on Tavares, Florida's Harris Chain of Lakes. It's the first of eight stops in the series.
"One of my main goals is to finish close enough to the top of the standings to earn a qualifying spot for next year's Bassmaster Elite Series," Said said. "My stretch goal is to win Rookie of the Year. The series has a very strong rookie field this year with more than 20, several of whom are already full-time pros from other series."
Said said he's only fished one of the eight lakes in the series before, and tournament rules prevent anglers from fishing the lakes within 30 days of each stop. However, he has his schedule worked out that he'll pre-fish each lake in between tournament stops, outside of the 30-day timeframe.
To do well, Said said he'll need to catch about 10-12 lbs. of bass per each 8-hour day of fishing – but the top finishers typically haul in about 20 lbs. of bass per day.
In addition to pre-fishing the lakes, reading up on the latest methods and tips from magazines like Bassmasters, Said will also have plenty of gear and other tackle on board his 20' Skeeter boat. This will include at least 15 casting rod and reels, including about 4-5 on deck at all times – each suitable for the varying lake conditions he's likely to encounter on a given day.
"The key is consistency," he said. "There's been multiple times on my final cast that I've caught a fish that made a significant difference in the final standings. Being prepared is one of the big keys for success in bass fishing."
Fred Said said he'll accompany his son to the Bassmaster Classic and the first stop on the Elite Series, plus select other stops.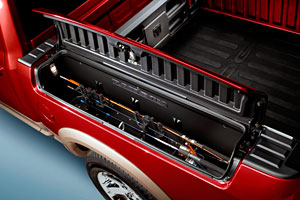 Ram Truck 'Outdoorsman' model showing some of the features built in just for outdoors people. Photo Credit: Chrysler
In addition to supplying a Ram 1500 Outdoorsman, Said's boat will feature Ram Truck graphics and Said wearing a Ram Truck jersey. Ram Outdoorsman is available in 1500 (half-ton), 2500 HD (3/4-ton) and 3500 HD single rear wheel (1 ton), Regular Cab; Quad Cab, Crew Cab and Mega Cab; four-wheel drive and two-wheel drive; and short- and long-wheelbase models.