Alabama's Swindle (Finally) Wins
By editor on Jan 29, 2011 | In Bass Tournaments, BASS Opens, BASS, Southern

B.A.S.S. News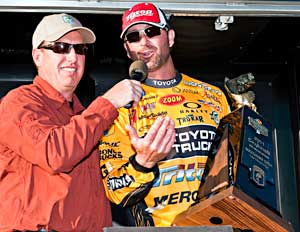 Gerald Swindle's 80-13 3-day catch on Florida's Lake Tohopekaliga gave him his first BASS victory. Photo Credit: B.A.S.S.
KISSIMMEE, Fla.- Elite Series pro Gerald Swindle can no longer be considered one of "the best who's never won." During his 167-tournament career, he's won Toyota Tundra Bassmaster Angler of the Year and joined the B.A.S.S. Millionaires Club. But a win has eluded him until now.
With his win at the first 2011 Bass Pro Shops Bassmaster Southern Open on Florida's Lake Tohopekaliga, the Warrior, Ala., resident earned a brand new Triton 19XS boat with a 200-hp Mercury OptiMax motor and more importantly, claimed the first berth in the 2012 Bassmaster Classic, set to take place in Shreveport, La.
"I can't even think about the Classic yet; that won't set in until I get home," he said. "When I came here I never thought about the Classic; I was just fishing. I didn't have any intention of winning. I knew I had one sure spot and I was going to make it work, and it just worked out."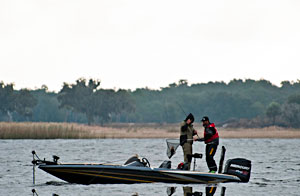 Elite Series pro Gerald Swindle and co-angler champion Marlon Crowder land a Florida bass while fishing the 2011 BASS Southern Open on Lake Toho. Photo Credit: B.A.S.S.
Swindle credits his win to a bit of advice given to him by fellow Elite pro and Florida native Terry Scroggins. Scroggins told Swindle that despite the spawn being in full swing, the tournament would be won in deeper water. Swindle relied on a lipless crankbait and a Carolina rig to sack 25 pounds, 8 ounces on Day 3, which gave him a total of 80-13.
In second place was Elite pro and Lakeland, Fla., native Bobby Lane, who brought 26 pounds to the Day 3 scales for a total of 77-13. Lane stuck to what he's best at to give Swindle a run for his money: sight fishing for bedding bass.
"Gerald deserves it and I'm really happy for him," he said. "But I always want to win, so it was tough giving that up."
Lane was flipping a Berkley Chigger Craw to fish he saw on beds in shallow water.
In third place was Trevor Fitzgerald of Belleview, Fla., with 67-14; in fourth place was Ott DeFoe of Knoxville, Tenn., with 61-7; and in fifth place was Larry Cahan of East Palatka, Fla., with 56-7.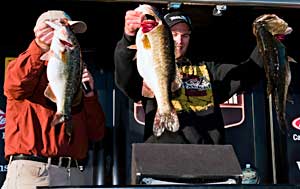 Marlon Crowder wins the co-angler title on Lake Toho while fishing with Elite Series pro Gerald Swindle with a montster 21-6 bag. Photo Credit: B.A.S.S.
On the co-angler side, Marlon Crowder of Tampa, Fla., took home an 18XS boat with a 150-hp Mercury OptiMax for his winning catch of 36-05. Crowder's monster 21-6 bag on Day 3 was in the boat by 8 a.m. He spent the rest of his day netting fish for his pro partner, Swindle.
"This is unreal. I've wanted this for a while, and now I have a chance to take my fishing to the next level," he said.
Crowder relied on the same techniques as Swindle to catch his bass.
Behind him was Chris Lewis of Dublin ,Va., with 25-3; in third is Bill Bruce of Hendersonville, Tenn., with 23 pounds; in fourth is Vance McCullough of Jacksonville, Fla., with 22-15; and in fifth is Daniel Lanier of Winter Springs, Fla., with 22-1.
The next stop of the Bass Pro Shops Bassmaster Southern Open Series is Lake Norman, in Charlotte, N.C., March 24-26, where another 2012 Bassmaster Classic qualifier will be crowned.
Bass Pro Shops Bassmaster Open Series Title Sponsor: Bass Pro Shops
Bass Pro Shops Bassmaster Open Series Official Sponsors: Toyota Trucks, Berkley, Mercury, Skeeter, Yamaha, Evan Williams Bourbon
Bass Pro Shops Bassmaster Open Series Supporting Sponsors: Bass Pro Shops, Humminbird, Minn Kota, Nitro Boats, Triton
About B.A.S.S.
For more than 40 years, B.A.S.S. has served as the authority on bass fishing. The organization advances the sport through advocacy, outreach and an expansive tournament structure while connecting directly with the passionate community of bass anglers through its Bassmaster media vehicles.
The Bassmaster brand and its multimedia platforms are guided by a mission to serve all fishing fans. Through its industry-leading publications — Bassmaster Magazine and B.A.S.S. Times — comprehensive website Bassmaster.com, and ESPN2 television programming, Bassmaster provides rich, leading-edge content true to the lifestyle.
The Bassmaster Tournament Trail includes the Bassmaster Elite Series, Bass Pro Shops Bassmaster Open Series, B.A.S.S. Federation Nation events presented by Yamaha and Skeeter Boats and the ultimate celebration of competitive fishing, the Bassmaster Classic.
B.A.S.S. offers an array of services to its more than 500,000 members and remains focused on issues related to conservation and water access. The organization is headquartered in Celebration, Fla.