Raw to well-seasoned, 15 Bassmaster Classic rookies get set for the Feb. 18-20 world-class challenge
By editor on Jan 20, 2011 | In Bass Tournaments, BASS Elites, BASS Opens, BASS, BASS Federation Nation, Bassmaster Classic, Pro Anglers, Ryan Said

B.A.S.S. News
Fifteen anglers will go into the Feb. 18-20 Bassmaster Classic on the Louisiana Delta as first-time qualifiers — Classic rookies, they're called. Some of those anglers, however, have a lot more rookie in them than do others with the same label.
A good example is Brandon Palaniuk. He's the 23-year-old from Idaho who landed a Classic berth (and a Bassmaster Elite Series entry) by winning the 2010 B.A.S.S. Federation Nation Championship presented by Yamaha and Skeeter Boats. Going into the Classic, his pro record is completely blank.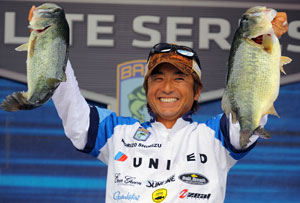 Japanese Bass pro Morizo Shimizu competes in his first Bassmaster Classic after 10 years on the circuit as the only international angler. Photo Credit: B.A.S.S.
In contrast is Morizo Shimizu. Age 40, he has competed as a Bassmaster pro for 10 years in the United States, and ranks as a bass-fishing star in his native Japan. His first Classic qualification has brought him more fame already.
"Whenever I appear on TV or in a magazine in Japan, they are now talking about the Classic. And fans congratulate me and wish me good luck in the Classic," he said through an interpreter.
When he arrives in New Orleans along with his 49 fellow Classic competitors, Shimizu is likely to collect more ink as the only non-American competitor. Likewise, Palaniuk will get his share of media attention for being the youngest in the field, as well as for being the first Federation Nation champ to exercise his option to join the Elite Series, which will begin in March, less than three weeks after the Classic.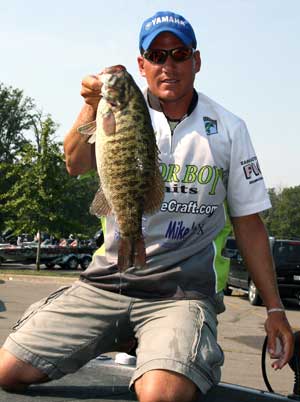 Michigan bass pro Ryan Said qualified for his first Bassmaster Classic in his first season finishing as the Northern Opens points champion. Photo Credit: Ryan Said
A first Classic followed by a first Elite event is also the near future of Ryan Said, Keith Combs and Andy Montgomery. All qualified for the Classic and Elite Series through a 2010 Bass Pro Shops Bassmaster Open Series division.
They are indeed Classic and Elite rookies, but Montgomery, 28, and Combs, 35, are transplants from another major circuit, and have competed multiple times in that circuit's championship. To a lesser degree, Said, 30, also has fished other tours and events.
At 58, rookie George Crain is the second-oldest 2011 Classic qualifier (Elite pro Paul Elias, 59, is the oldest). Crain is a retired firefighter from Alabama who, like the youngest qualifier, traveled the long Federation Nation road to win a Classic berth.
"I'm just thrilled to death to be going to the Classic," said Crain, who tried to qualify through the Federation for nine years before he made it.
Rank beginner or seasoned pro, all first-time Classic crown hopefuls will have to learn how to handle all the extra pressures of a Classic, like energy-sapping schedules, media and fan attention, and after-hours sponsor commitments.
So far, Palaniuk has been able to remain focused, both feet on the ground.
"Definitely, being the youngest, I have less experience, especially at this level," he said, "but I try not to pay attention to that too much. The Classic has the best anglers in the world, and winning it for me is a long shot. But anything can happen at a Classic."
If Palaniuk won, he would follow in the footsteps of Bryan Kerchal, the 23-year-old fry cook who in 1994 became the first Federation qualifier to win a Classic.
Kerchal died in a commuter plane crash a few months after his historic Classic victory, fishing career unrealized. Age 7 at the time, Palaniuk does not remember him.
"But I've heard the Kerchal story since I joined the Federation," Palaniuk said. "It's one of the biggest feats of bass fishing. I'm hoping I can honor him by doing well at the Classic."
For more information about the three-day competition and the concurrent Bassmaster Classic Outdoors Expo presented by Dick's Sporting Goods, click here.
2011 BASSMASTER CLASSIC ROOKIES
(Click here for a complete list of the 50-angler field.)
3 rookies qualified through the 2010 Bassmaster Elite Series:
Morizo Shimizu, Osaka, Japan
Jason Williamson, Aiken, S.C.
Greg Vinson, Wetumpka, Ala.
5 rookies qualified through a 2010 Bass Pro Shops Bassmaster Open Series division:
Tracy Adams, Wilkesboro, N.C.
Keith Combs, Del Rio, Texas
Andy Montgomery, Blacksburg, S.C.
Ryan Said, Wixom, Mich.
Randall Tharp, Gardendale, Ala.
6 rookies qualified through the 2010 B.A.S.S. Federation Nation Championship presented by Yamaha and Skeeter Boats:
Sean Alvarez, Rutland, Vt.
George Crain, Cropwell, Ala.
Dale Hightower, Sand Springs, Okla.
Brain LaClair, Denton, Del.
Brandon Palaniuk, Rathdrum, Idaho
David Watson, Dugger, Ind.
1 rookie qualified by winning the 2010 Toyota Tundra Bassmaster Weekend Series Championship operated by American Bass Anglers:
Ryan McMurtury, Abbeville, S.C.