Defending Louisiana Delta Bassmaster Classic champ Michael Iaconelli is right where he wants to be
By editor on Jan 19, 2011 | In BASS, Bassmaster Classic, Pro Anglers

B.A.S.S. News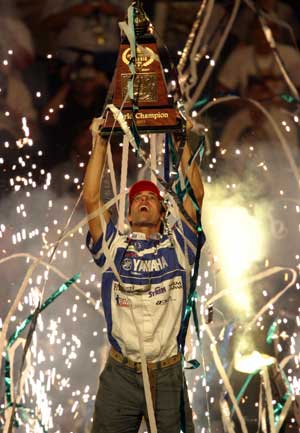 Michael Iaconelli hoists the Classic trophy after his 2003 Bassmaster Classic victory at the Louisiana Delta. Photo Credit: B.A.S.S.
"The Jersey Score" are the words printed under Michael Iaconelli's photo, his victory-pumping arm frozen by the camera. It's an ad that promotes the Feb. 18-20 Bassmaster Classic's return to New Orleans and the Louisiana Delta for the first time since the New Jersey pro won the world championship there in 2003.
That Classic title was a huge score for Iaconelli — and the reason he dropped his half-formed plan to quit fishing professionally.
Roughed up by a bad patch in life, he had convinced himself that his career was the cause. He had vowed that the 2003 Classic would be his final competition. It was his way of going out with a bang.
A bang it indeed was, but the only thing that ended was Iaconelli's negative view of fishing.
"Now, my life is almost a full 180 degrees the other way: My personal life has never been better, I've never been happier, I've got a baby on the way, my professional life is full. I'm in a totally different place than I was in 2003," said the Bassmaster Elite Series pro as he talked this week about that pivotal year and his upcoming 12th Classic appearance.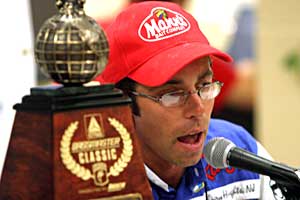 Michael Iaconelli meets with the press after his 2003 Bassmaster Classic victory in New Orleans at the Louisiana Delta. Photo Credit: B.A.S.S.
Since his Classic victory, he has earned his first Toyota Tundra Bassmaster Angler of the Year title (2006). He has his own fishing show, "City Limits," on the Versus channel. He and another pro launched The Bass University this year; he's happy to be teaching, one of his passions. He also started "Going Ike," a fun, self-produced video project for social media sites and his own website.
Between commitments, he spent more than a week on the delta before the off-limits period set in Dec. 13. The scouting trip was his first look at the water since his Classic victory.
"Just being back at the place that changed my life was a neat experience. It was almost surreal," he said. "And it was probably the most productive week of pre-practice I've ever had."
Like Ike himself, the delta has changed, but some things are the same. He said he located some familiar areas, but an equal number of his spots had vanished. He had to relearn navigation of the delta, torn by hurricanes, the oil spill and the wear of time.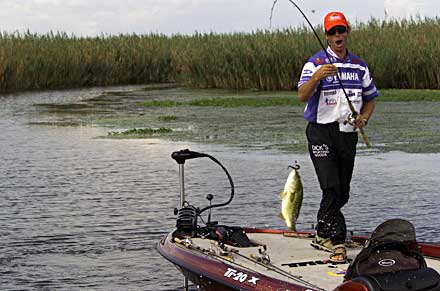 Mike Iaconelli lands a kicker largemouth bass during the 2003 Bassmaster Classic
at the Louisiana Delta. Photo Credit: B.A.S.S.

He declared that he is ready for the contest to begin. Yet there's an important consideration that's got him wondering when he'll take off for Louisiana. It's literally a very small issue: The baby he and his wife, Becky, are expecting is due Feb. 3. He said he can wait as late as Feb. 10 to fly into New Orleans so he'll be on time for the practice days of Feb. 11-13 and Feb. 16. He would send his boat ahead via a hired driver.
"That gives us about a seven-day window to have this baby, so we're cutting it close," he said.
Pages: 1· 2