Ike the ice man
By editor on Jan 18, 2011 | In Bass Tournaments, BASS, Pro Anglers

B.A.S.S. News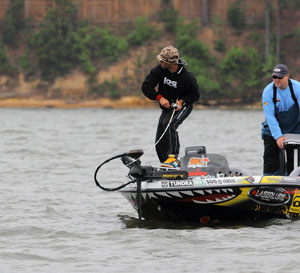 Mike Iaconelli of Runnemede, NJ considered becoming a hockey pro before becoming a top bass tournament angler. Photo Credit: B.A.S.S./Seigo Saito
Michael Iaconelli, the 2003 Bassmaster Classic champ and 2006 Toyota Tundra Bassmaster Angler of the Year, once considered becoming a hockey pro.
It's true — and, according to Iaconelli, a fact not publicly revealed before now.
The story came to light because of a humorous video titled Ice Trolling that's posted on his website. In it, the Bassmaster Elite Series pro expertly glides across frozen water. When asked where he learned to skate so well, he revealed that he came close to pursuing a career chasing pucks.
He took up hockey early in life — about fourth grade, he said — and played competitively well into his college years.
"I made national teams, traveled to Canada, upstate New York and Massachusetts," he said. "But fishing was always there, too. I'd go back and forth: I'd love my fishing, I'd love my hockey. I did that for years. Fishing ended up winning out in the end."
The turning point came when he was a college junior. He'd just won the co-angler division of the 1994 Bassmaster Top 100 on Lake Norman. It was only the second bass tournament he'd ever entered.
"That was the moment that changed my life," Iaconelli said. "Both careers were a far-away dream, but I saw the better potential for me with fishing. I never really had the size to be a professional hockey player."
Watch him on skates at MikeIaconelli.com (or on YouTube). The video is part of his newest venture, Going Ike. They're shorts mostly shot by Iaconelli himself using a Hatcams lightweight camera mounted on his ball cap.