Classic KVD
By editor on Jan 18, 2011 | In Bass Tournaments, BASS, Bassmaster Classic, Pro Anglers

B.A.S.S. News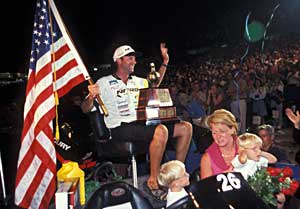 Michigan pro angler Kevin VanDam after his first Bassmaster Classic victory in 2001 at the Louisiana Delta. Photo Credit: B.A.S.S.
Kevin VanDam was on his father's small Michigan lake for a day of ice fishing. Forget those sit-and-wait, heated ice shacks. His technique was to move fast, to hunt for the fish.
This, mind you, was relaxation.
"It's the first time I've been out all winter," VanDam said via cell phone from the ice. "I've been so busy I haven't had a chance to do any fishing. I'm trying to tune my skills for the Bassmaster Classic by ice fishing."
He was joking, of course, at least in part. It is unlikely that hard-water fishing in Michigan could help the defending champion prep for his 21st consecutive Classic appearance, Feb. 18-20 on the Louisiana Delta out of New Orleans.
The part he wasn't joking about was being busy — much too busy for a scouting trip to Louisiana. As one of the sport's superpros, VanDam's time is much in demand. He's the reigning Toyota Tundra Bassmaster Angler of the Year — 2010 was his sixth AOY title — and a three-time Classic winner.
He took his first Classic title in 2001 on the Louisiana Delta. Interestingly, when the Classic returned to the delta in 2003, VanDam ended 34th in a field of 61, which stands today as the lowest Classic finish of his life.
What happened in 2003 that he will avoid this time around? Nothing. In a delta Classic, that's just how a competition can come down.
"In 2003, the area that I chose was the same area that I'd fished in 2001, but it just was not happening at all. The problem I ran into was that there were a couple other guys in the area I was in, and it was just too small. By the time you try to make an adjustment, it's too late."
There are few, if any, chances for corrections on the delta.
"That's the nature of that fishery," VanDam said. "It's one of those that has good fishing, but the fishing areas are far apart. If you make a wrong decision or have a breakdown or anything like that, you can be in a world of hurt in a hurry."
He hasn't been back to the delta since 2003. Like all of the Classic competitors, he'll begin to hunt fish during official Classic practice days, Feb. 11-13 and Feb. 16. He has a practice plan.
As he described his plan, he interrupted himself.
"Believe it or not, I'm fishing for bluegill, and I just caught a bass," he laughed. "It's the second one today! It's all I catch!" He paused. "Good problem to have, huh?"