Ashley sings
By editor on Jan 18, 2011 | In Bass Tournaments, BASS, Bassmaster Classic

B.A.S.S. News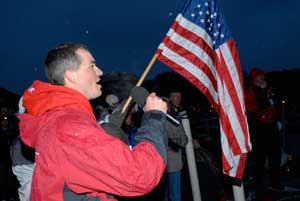 Professional angler Casey Ashley of Donalds SC performs a song at the 2008 Bassmaster Classic. Photo Credit: B.A.S.S.
Bassmaster Elite Series pro Casey Ashley of Donalds, S.C., has agreed to perform on the 2011 Bassmaster Classic stage Friday, Feb. 18, the first day of the 41st world championship.
"It'll just be me and a guitar sitting up on the stage," Ashley said. "I'll sing three or four songs before the weigh-in begins."
One of the songs likely will be I Am A Fisherman, the tune he debuted when he competed in his first Classic in 2008. Since then, between fishing tournaments and public appearances, he's been working on more songs for a CD he hopes will be ready in time for a summer 2011 release.
Free and open to the public, the Feb. 18-20 weigh-ins will be at the New Orleans Arena. For more information about the Classic, click here.