Schara Joins Harper As Host Of 'FLW Outdoors'
By editor on Dec 17, 2010 | In FLW Tour, FLW Outdoors

FLW Outdoors News
Jones will serve as weighmaster on Walmart FLW Tour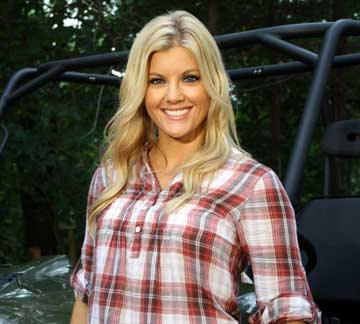 Laura Schara joins Jason Harper as host on FLW Outdoors television and emcee at FLW Tour events
Photo Credit: FLW Outdoors

MINNEAPOLIS (Dec. 16, 2010) – The "FLW Outdoors" television program will see a new face in 2011 as Laura Schara will join Jason Harper as host. The duo will also emcee the Walmart FLW Tour events and host features produced for the multiple FLW Outdoors websites.
Trisha Blake, president, FLW Outdoors Marketing Division, stated, "We could not be more excited about Jason and Laura working together next season. We believe their personalities and charisma will bring a new excitement and perspective to our sport."
Schara, a veteran of the outdoors and sports worlds, began her television career in 2000 hosting an outdoors segment on Minnesota Bound and has hosted numerous projects on The Outdoor Channel, VERSUS and Fox Sports Net. Schara received her Bachelor of Science from the University of Wisconsin. Schara's passion for the outdoors was passed to her from her outdoor enthusiast father, Ron Schara.
"I am thrilled to be joining the FLW Outdoors family," said Schara. "I look forward to getting to know the fans in the stands and the anglers; and being an avid fisherwoman myself, I hope I'll be able to get out on the water and go fishing with some of the pros!"
Harper, a native of Atlanta, joined FLW Outdoors in 2008. Prior to that, he spent eight years working for a Little Rock television station and served as the morning show host. Harper attended Belmont University in Nashville, Tenn., and earned a Bachelor of Music degree in the area of commercial music and music business. After graduating, he performed with Opryland Productions for four years prior to making the move to Little Rock.
Chris Jones, who previously served as a tournament director for FLW Outdoors, will return to serve as the weighmaster for the Tour events on Saturdays and Sundays. Jones will also assist with some FLW Live morning shows surrounding the Tour and various produced features for the website.
VERSUS Country broadcasts "FLW Outdoors" in high-definition (HD) Sundays from 1 - 2 p.m. ET. FLWOutdoors.com also provides an online guide listing upcoming episodes of "FLW Outdoors." "FLW Outdoors" is broadcast to more than 500 million homes worldwide through partnerships with VERSUS, WFN (World Fishing Network) and Matchroom Sport, making it the most widely distributed fishing program in the world. In addition, each episode of "FLW Outdoors" will be available on demand in its entirety on FLWOutdoors.com.