Scott Dobson and Kyle Green Boat Unofficial Lake St Clair Bass Tournament Record!
By editor on Oct 19, 2010 | In Bass Tournaments
"This catch is by far my biggest tournament limit ever. We had a couple 24 pound limits earlier this year, and I had the 24-2 in the BFL (a personal win for Dobson on St. Clair this summer). During the Fish for the Pros up North last year, I estimate we had about a 28 ½ pound bag, but you only bring back your biggest two bass to that weigh in," says Dobson.
Dobson has had a real good season in 2010 with a number of wins in NBAA events, the BFL, Monsterquest, 5 or 6 maybe. His job as a manager for a cable contractor out of New Jersey gives him valuable flexibility in his schedule though he can't always fish all day due to the type of work and large number of people working for him.
Hooking up with veteran tournament angler Kyle Green the past few seasons has also helped a lot. "Kyle is more of a finesse fisherman than me. He can fish a drop shot and tube all day. I'm more of a power fisherman. Crankbaits and jerkbaits," says Dobson. "We complement each other well."
Asked about future plans, Dobson says he took a year off the big tournaments for various reasons, but is returning to the FLW Tour next season. "I'm going to fish the 4 open events – Oklahoma in January, Potomac in June, Champlain in September and Guntersville in October. Then either the American Fishing Series North or Bassmaster Northern Opens."
Besides Provider Tackle, Scott Dobson is also sponsored by Ranger Boats and Evinrude.
Monterquest Tournament – Lake St. Clair
Top Seven Team Results from October 9, 2010
All 5 Bass Team Limits
Pl Team                           Big Bass  Ttl Wght
1  Scott Dobson/Kyle Green          6.78     29.68
2  Hardy Tulgeskta/Ted Prisbe       5.70     27.81
3  Dave Reault/Chuck Reault         6.36     26.25
4  John Maniaci/Darren Lear         6.12     24.33
5  Joe Balog/Eric Jacques           5.17     21.78
6  Ken Neeley/Terry Melvin          6.29     21.14
7  Matt Belletini/Josh Kolodzaike   4.89     21.11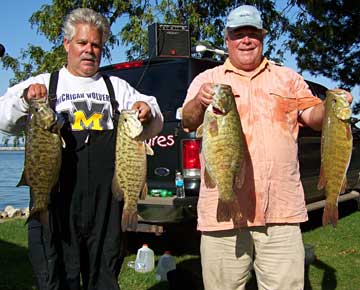 Chuck and Dave Reault show four smallies from their third place 26.25 pounds limit including the 6.36 pounds 2nd big bass
Photo Credit: Drew Smith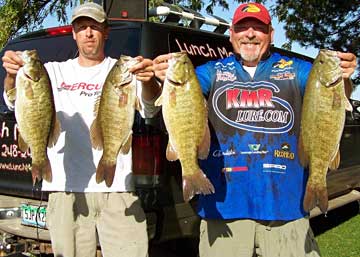 Fourth place finishers Darren Lear and John Maniaci with four of their impressive 24.33 pounds smallmouth limit
Photo Credit: Drew Smith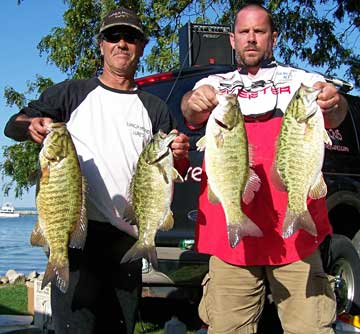 Here's sixth place finishers and co-tournament directors Terry Melvin and Ken Neeley with four of their 21.14 pounds limit that included a 6.29 pounds 3rd big bass
Photo Credit: Drew Smith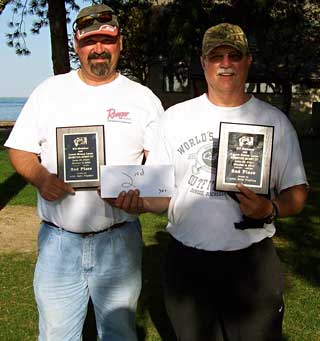 Second place finishers Hardy Tulgestka and Ted Prisbe display their trophies and winnings from the 2010 fall Monsterquest
Photo Credit: Drew Smith

1 comment