Scott Dobson and Kyle Green Boat Unofficial Lake St Clair Bass Tournament Record!
By editor on Oct 19, 2010 | In Bass Tournaments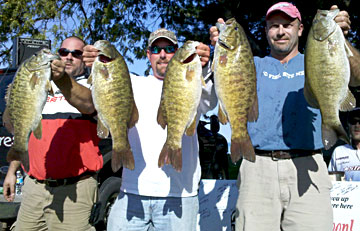 Kyle Green and Scott Dobson, with TD Ken Neeley (L) show their unofficial Lake St Clair tournament record that weighed 29.68 pounds
Photo Credit: John Maniaci

Perfect fall practice conditions led to what many believe is the new unofficial 5-bass tournament record weight for Lake St. Clair. During a local event on October 9, 2010 known as Monsterquest, bass pro Scott Dobson and tournament partner Kyle Green dropped 5 big Lake St. Clair smallmouth bass onto the scales for an amazing 29.68 pounds! Their 5 bass included the big bass winner of the day – a huge 6.78 pound toad smallie!
Excellent fall conditions led to a number of huge limits for the day (see the top 7 team weights and more pictures at the end of this article). Imagine catching over 27 pounds and not winning! That's what happened to the team of Tulgestka and Prisbe whose 5 bass weighed an impressive 27.81 pounds.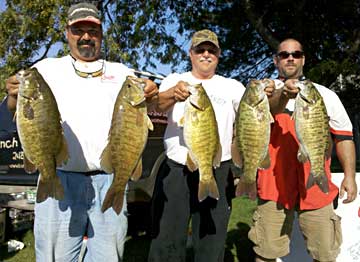 Tulgestka and Prisbe, with TD Ken Neeley (R) show their big 2nd place Lake St Clair 27.81 pounds limit
Photo Credit: John Maniaci

So, how did Dobson find enough really big bass to beat that?
Dobson has been fishing St. Clair for many years, but truly believes the bass are getting steadily bigger. The Monday before the Monsterquest event saw calm conditions and very clear water. Dobson was checking flats in Canadian water where big smallmouth bass feed on small perch every fall. After the sun got high enough, Dobson was able to clearly see 12 ½ to 13 feet deep. He could spot the nuances of the grass beds and even see the large bass.
That practice day was critical to figuring out the key details – how the truly big bass were positioned in relation to the grass. That positioning was more important than the lures used. Dobson came away with 17 different waypoints. There were plenty of good-sized bass in the area that could be caught if you didn't fish the specific key spots as evidenced by other anglers in the area and a Thursday trip to share information with another angler. That angler caught an 18 pound limit to win a club event in the same area just fishing the area in general. But he followed up with a 24 pound limit a day later once he figured out the nuances.
Thanks to that Monday practice though, Dobson was very confident they had a shot at a big limit for the Monsterquest. The team used Green's boat since Dobson's new boat was not available yet. Unfortunately, Green did not have a GPS unit on the bow. Dobson told him that would be critical for fishing the flats if they were to target the bigger bass on those little key spots.
Thankfully for the team, Scott Michael at Wonderland Marine West came to the rescue, hooking the team up with a loaner Lowrance HDS5 unit. With an internal antenna, the unit was easy to install and made the big catch now possible. Dobson wanted to pass along a special thanks to Scott at Wonderland for that big favor.
At the start of the Monsterquest, as he has been doing often this year, Dobson stopped first at the famous Firecracker to find only one other boat there, a Firecracker fixture, the team of John 'Mini' Maniaci and Darren Lear. At about 9:30, having only one keeper, Green and Dobson decided to leave for their Canadian flats. Their one bass was an almost 6 pound bass, but they had only the one. Dobson said it is another key to his success of late, by himself or teaming up with Green, he's been winning a few events, and has built the confidence to help the all important mental aspect of bass tournament fishing – the confidence to run to another spot, to go for big fish.
So that is exactly what they chose to do. As they were pulling away, Mini shouted over, "See you later." To which Dobson replied, "No you won't. We aren't coming back until we have 30 pounds!" Seems almost prophetic now and Dobson was partly serious knowing the potential of those Canadian flats and his key spots.
1 comment