Fighting Illini 2010 Big Ten Bass Fishing Champs
By editor on Oct 6, 2010 | In Bass Tournaments, College Fishing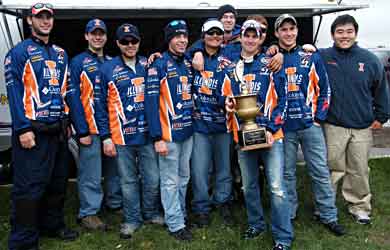 The 2010 Big Ten Bass Fishing Champion University of Illinois bass fishing team
The University of Illinois bass fishing team are the 2010 Big Ten bass fishing champs after the Sunday, October 3rd championship event on Michigan's St. Clair River, holding off the University of Michigan and 2009 champs Michigan State University! Fishing was very tough due to a last minute change to the river because of gale force winds, and the cold and rain.
1st Fighting Illini          25.91 lbs
2nd U of M Woverines         22.70 lbs
3rd MSU Spartans             22.64 lbs
4th Wisconsin Badgers        20.14 lbs
5th Indiana Hoosiers         15.65 lbs
6th Purdue Boilermakers      12.27 lbs
7th Iowa Hawkeyes             9.08 lbs
8th Penn State Nittany Lions  2.98 lbs
Pictures and the weigh in video available on the Big Ten College Fishing message board.