Espe Wins FLW Series Event On Lake Roosevelt
By editor on Sep 25, 2010 | In Bass Tournaments, FLW Series, FLW Outdoors, West Division

FLW Outdoors News
Zanotelli wins Co-angler Title and FLW Series Western Division Co-angler of the Year Award at Roosevelt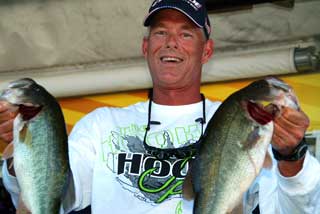 Keith Espe won $43,371 in the FLW Series National Guard Western Division tournament on Lake Roosevelt with a four-day catch of 20 bass weighing 47-4
Photo Credit: FLW Outdoors

PAYSON, Ariz. (Sept. 25, 2010) – Keith Espe of New River, Ariz., caught a five bass limit weighing 11 pounds, 12 ounces Saturday to win $43,371 in the FLW Series National Guard Western Division tournament on Lake Roosevelt with a four-day catch of 20 bass weighing 47-4.
The catch gave him a solid 3-pound, 7-ounce win over Robert Lee of Angels Camp, Calif., who caught a total of 20 bass weighing 43-13 and earned $17,348.
"I have been fired up all day," said Espe, who was fishing his first FLW Series event. "I wanted to win because of my parents, I lost my mom in February and then my dad in May and this feels pretty special. I fished the same spot all week, one that I found with my dad five years ago. He and I fished that area every year since we found it; it is an incredible area that is always full of fish.
"I was shaking all day; I didn't have my first fish until 30 minutes into the day and then I shook for 30 minutes after I caught the fish," Espe went on to say. "All week I have been using a drop-shot with a bamboo stick and purple worm. The bite was great every morning, but then about 9 a.m. it just shut down and I had to work slow and really grind it out. There is nothing better in the world than to fish bass tournaments and do well."
Espe opened the tournament in 25th place Wednesday with five bass weighing 8-13; on Thursday he added another five bass weighing 13-14, his heaviest sack of the week to jump into fourth place. He then caught five bass weighing 12-13 on Friday to make the crucial top-5 cut in first place. On Saturday he sealed his victory with another five bass limit weighing 11-12.
"This has just been an incredible week for me," said 2nd place Lee, who had his truck with much of his fishing equipment on board stolen just prior to the start of this tournament. "To be able to fish the way I fished with what was left of my equipment was just incredible. I have had an amazing week and to finish second, I am thrilled."
Rounding out the top-5 pros are:
3rd: National Guard pro Brent Ehrler, Redlands, Calif.,
      20 bass, 42, $13,011
4th: Jimmy Savoini, Prescott, Ariz., 20 bass, 39-1, $8,674
5th: National Guard pro Tim Klinger, Boulder City, Nev.,
      20 bass, 37-10, $7,807
A complete list of results can be found at FLWOutdoors.com.
Fishing remained stingy all week for the pros at Lake Roosevelt. The storm front that moved through on Wednesday and then the heat that moved in for the remainder of the week kept the fish scattered throughout the lake. The top five anglers were fortunate enough to be patient and grind it out each day and come to the scales with five bass limits every day.
Overall there were 25 bass weighing 50 pounds, 10 ounces caught by five pros Saturday. The catch included five, five-bass limits.
Pages: 1· 2