One for the money, two for the show
By editor on Sep 22, 2010 | In Bass Tournaments, BASS Opens, BASS, Bassmaster Classic, Pro Anglers, Northern, Ryan Said

BASS News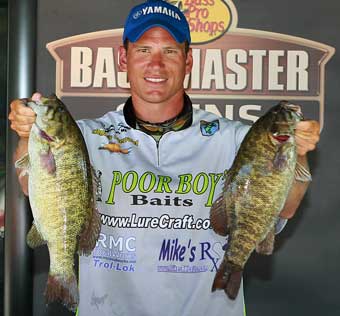 Wixom Michigan rookie bass pro Ryan Said is Bassmaster Classic bound as 2010 BASS Northern Opens points champion
Photo Credit: BASS

To borrow from the song Blue Suede Shoes, Nate Wellman is the "one for the money." Ryan Said and Tracy Adams are the "two for the show."
Wellman was the Newaygo, Mich., pro who last Saturday walked off with the Bass Pro Shops Bassmaster Northern Open title and thus the largest chunk of tournament payout money. Said and Adams came through the three-event season as the two for the show, as qualifiers for the 2011 Bassmaster Classic, Feb. 18-20 on the Louisiana Delta out of New Orleans.
Said and Adams hit the top in their first seasons as Bassmaster pros. True, Adams has competed for years in other circuits' events near to and far from his home in Wilkesboro, N.C. But Said, a mechanical engineer from Wixom, Mich., had entered only small regional events. His entire Bassmaster experience before 2010 consisted of being a co-angler twice in 2004.
"It's still sinking in. You go out, you work hard, you give it your best and you never know what will happen. But to actually have it happen to you is unbelievable," he said.
It's a good thing Said did not have to be present to win. After he failed to make the Friday cut at the season finale on the Chesapeake Bay, he decided to head home so he would be somewhat rested for work on Monday at Chrysler Corp. When the announcement was made at the Maryland tournament site, he was hours away. His brother, at home in Michigan, relayed the tournament results via cell phone.
"Initially, I told my brother, 'Don't even call me until it is all over and you know what happened.' I put on my favorite CDs, and tried not to think about it," he said.
But Said got a call as the weigh-in was beginning, and neither brother could resist following Bassmaster.com's online leaderboard.
"He stayed on the line and told me what was happening, angler by angler, as everyone weighed in. Tracy Adams and Travis Manson were the two who could have caught me, so we watched for them. It was nerve-racking until the end, that's for sure," he said.
Said came close to failing in his Classic bid. He led by 73 points going into the Chesapeake event, but all could have been lost if he hadn't made a correct Day Two decision on how to handle a squeaker.
His first onboard measure of a small bass was a hair's breath over the required 12-inch length. The bass went into his livewell as his fifth keeper, a limit. But just to be sure, Said later measured the fish several more times. It appeared to be under 12 inches. He decided to release the bass to eliminate the possibility of a short-fish penalty, which could have led to losing the Classic seat.
The decision proved to be the right one. He ended the tournament in 41st place, earning enough points to give him 3 up on Adams. (Click here for full-field points finals.)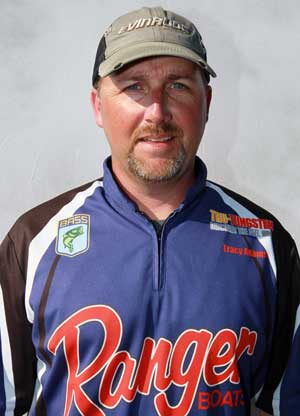 Wilkesboro North Carolina bass pro Tracy Adams is Bassmaster Classic bound as 2010 BASS Northern Opens points runner-up
Photo Credit: BASS

In turn, Adams clinched the second of two Northern-awarded Classic berths by pulling up from sixth place to finish in second, 12 points in front of event winner Wellman.
Pages: 1· 2