Michigan's Nate Wellman Takes Lead at Chesapeake Bay Bassmaster Northern Open
By editor on Sep 16, 2010 | In Bass Tournaments, BASS Opens, BASS, Northern, Ryan Said

BASS News
Two Classic Spots Up for Grabs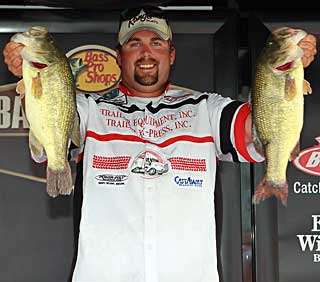 Newaygo Michigan pro angler Nate Wellman leads the Bassmaster Northern Open after day one on the Chesapeake Bay with 5 bass weighing 18 pounds 6 ounces
Photo Credit: BASS

With weights lower than expected at the season-ending 2010 Bass Pro Shops Bassmaster Northern Open, Nate Wellman of Newaygo, Mich., surprised everyone – himself included – when he toted 18 pounds, 6 ounces, to the scales. Wellman's total puts him more than 1 pound in front of second-place Kyle Walling of Fisherville, Ky.
"I had an OK practice, so I was hoping for 10-12 pounds a day," Wellman said. "I caught a fish or two off of every one of my spots, but I executed poorly. I had 10 bites today but only landed five of them."
Wellman caught his limit by junk fishing, meaning he threw an assortment of lures ranging from light line techniques to heavy, fast-moving baits.
"I caught them from just over a foot deep out to 15 feet deep," he said. "I lost a couple that would've helped me a lot, but I'm happy overall."
The Chesapeake Bay is a vast fishery with miles of water open to anglers, but a recent saltwater influx has concentrated the bass, making it fish relatively small. Walling managed to bring 16-15 to the scales despite having to fend anglers off of his water.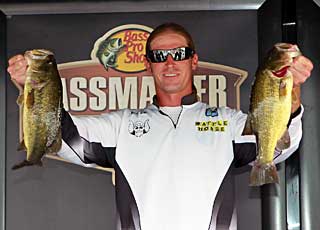 Fisherville Kentucky pro angler Kyle Walling is second in the Bassmaster Northern Open after day one on the Chesapeake Bay with 5 bass weighing 16-15
Photo Credit: BASS

"There are crowds on a few popular spots, so I tried to fish different water that was nearby those spots," he said. "I caught fish in water much shallower than you'd expect them to be in. I was trying to hit some fish that maybe haven't seen a lure yet."
Pros are fishing aggressively because there is a lot on the line. There is $106,000 in cash and prizes up for grabs, with the first place pro receiving a check for $27,000. Also on the line are valuable points toward one of two Bassmaster Classic berths as well as several Bassmaster Elite Series berths. Ryan
Said of Wixom, Mich., currently leads the race to Feb. 18-20 New Orleans-based Classic by 73 points. He has left the door wide open though and is currently in 58th place here, 13 pounds out of the lead. Travis Manson, second in points heading into this week, had a strong showing Thursday and was 16th. Other pursuers for the two Classic berths include Elite Series pros Kevin Short, Ish Monroe and Jeremy Starks. The full event standings can be found below.
Behind Walling in third place was Joe Hunt of Lincoln University, Pa., with 15-7. In fourth was Ben Parker of Springville, Tenn., with 15-2 and fifth was Donald Haskins of Rosedale, Md., with 14-10.
On the co-angler side, Robert Moody of Dover, Del., leads with a 3-fish limit that weighed 9-9. The winning co-angler will receive a brand new Triton 18XS with a 150-horsepower Mercury Optimax outboard motor. Moody credited his pro, ex-Elite Series angler Randy Yarnall of Womelsdorf, Pa., for his success.
Behind Moody in second place was Barry Townsend with 7-12 while Ron Horton of Dover, Del., was third with 7-2.
A full field will fish Friday, but only the top 30 pros are invited to fish Saturday , when Bassmaster Classic and Elite Series invites will be handed out. The public is invited to attend the Friday and Saturday's launches and weigh-ins at Anchor Boats Marina, 36 Iroquois Drive, North East, MD 21901. Launches are set for 6:30 a.m. ET; weigh-ins will begin at 2:30 p.m. ET. All events are free and open to the public.
Pages: 1· 2