Nobody's safe
By editor on Sep 13, 2010 | In Bass Tournaments, BASS Opens, BASS, Northern, Ryan Said

BASS News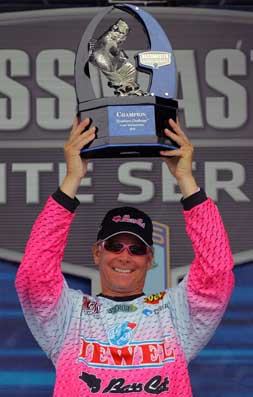 Bass pro Kevin Short of Mayflower, Arkansas says nobody's safe among the points leaders in the BPS Bassmaster Northern Open race for the 2011 Bassmaster Classic
Photo Credit: BASS

That's what Kevin Short says about the leaders in the Bass Pro Shops Bassmaster Northern Open race to the 2011 Bassmaster Classic — and he is one of the leaders.
"It's amazing how tight the points are. I think Ryan (Michigan's Ryan Said) has a pretty good lead on everybody, but I have to say even he's not safe. I say nobody's safe," Short said heading into the season finale next week on the Chesapeake Bay, from which the Northern's two Classic qualifiers will emerge.
As the Northern's No. 5 (point standings can be found here), Short will be taking a second shot at the 2011 Classic after failing to qualify through the 2010 Bassmaster Elite Series.
He has, by his reckoning, two chances. His 502 points from the Northern's first two events puts him only 10 points behind the No. 2 angler, Wisconsin's Travis Manson. But even the 83 points he lacks on leader Said does not scare Short.
"The way the points are, you could have a mediocre event and you could be gone, you could be wiped completely out," he said. "A couple of guys in the 6th through 10th spots could finish in the top two or three, and … that's your two Classic qualifiers."
Short likes his chances on the Chesapeake.
"I'm actually pretty excited about going up there," Short said. "It's more along the lines of the way I like to fish, (compared to) the smallmouth fishing we've had to do."
Short said he has competed on the bay only one other time, at the April 2009 Northern Open, where he finished 17th. Conditions included cold water, sparse grass and a big field of anglers. An end-of-season tournament reverses all that, he pointed out.
Hosted by Cecil County, Md., the Sept. 16-18 Northern Open will take place out of Anchor Boats Marina in North East. Daily results will be available at www.Bassmaster.com.