Federation Nation anglers go for it
By editor on Sep 13, 2010 | In Bass Tournaments, BASS, BASS Federation Nation

BASS News
Just about any angler would give up their Labor Day barbecue to go bass fishing. That goes double for those competing in this week's BASS Federation Nation Mid-Atlantic Divisional out of locations in Delaware and Maryland.
After their Monday and Tuesday practice on the Nanticoke River, the anglers will compete Wednesday-Friday, Sept. 8-10, for the right to advance to the BASS Federation Nation Championship, coming up Oct. 27-29 on the Red River out of Shreveport-Bossier City, La. The championship will narrow the field further to six, the only Federation Nation anglers to compete in the 2011 Bassmaster Classic in February.
Junior Bassmaster anglers will also compete on the Nanticoke, joining the adults Sept. 10. Junior qualifiers will be vying to advance to their championship on a date and at a location to be announced soon.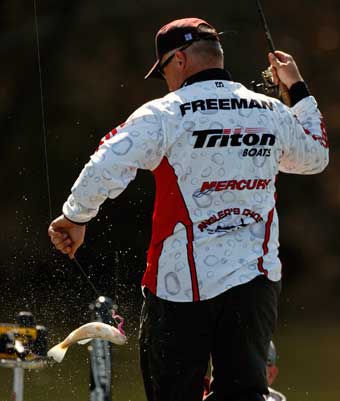 Last year's Mid-Atlantic Divisional winner was Jeff Freeman of Max Meadows, Va., who also led his state to victory over five other state teams. This year Freeman and the Virginia team will defend their titles against the teams of Pennsylvania, New Jersey, West Virginia, Delaware and Maryland, each composed of 13 to 14 anglers.
Freeman, who won the 2007 BASS Federation Nation Championship, is shooting for his third Bassmaster Classic entry. As the 2007 champ, he qualified for the 2008 Classic. He made it back to the big show again in 2010, where he finished a very decent 9th on Alabama's Lay Lake.
This week's divisional competitors will take off out of Phillips Landing in Laurel, Del. Daily weigh-ins will be at the Gander Mountain store, 2410 N. Salisbury Blvd., Salisbury, MD 21801. Daily results will be available at Bassmaster.com. http://sports.espn.go.com/outdoors/bassmaster/federation/index
After this week's event, only one more Federation Nation Championship-qualifying event will remain: the Sept. 22-24 Eastern Divisional on Candlewood Lake out of Danbury, Conn.