Bass Pro Shops Bassmaster Northern Opens to Wrap up in Maryland
By editor on Sep 13, 2010 | In Bass Tournaments, BASS Opens, BASS, Northern

BASS News
Mark it: Sept. 16-18, Upper Chesapeake Bay out of Maryland's Cecil County, the final Bass Pro Shops Bassmaster Northern Open of 2010. It's a tournament that could make or break many an angler's season.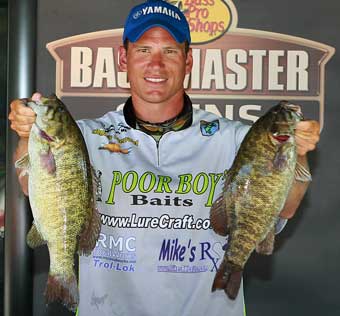 Michigan rookie bass pro Ryan Said is the points leaders in the BPS Bassmaster Northern Open race for the 2011 Bassmaster Classic
Photo Credit: BASS

A few are new to the BASS scene like Open rookies and points leaders Ryan Said of Michigan and Travis Manson of Wisconsin, and Indiana's Chip Harrison. Others include a boatload of veteran Bassmaster Elite Series pros: Jeremy Starks, Kevin Short, Ish Monroe, Jason Quinn and Randy Howell, to name a few.
All are frontrunners for the Bassmaster Classic entries to be awarded to the top two points-earners from the three-event Northern season. The two winners will make it into the field for the Feb. 18-20 Classic on the Louisiana Delta out of New Orleans.
Anglers will also be competing in Maryland for prize money. First place on the pro side will be $45,000 based on a pro field of 175. In the co-angler division, the big prize is a Triton 18XS boat with a Mercury 150 Optimax engine.
For pros, Elite qualifications for the 2011 season are also on the line. Wisconsin's Manson has said he will go to the Elite level if he qualifies. Michigan's Said, a Chrysler mechanical engineer who designs steering wheels and airbags, hasn't made a decision.
"I'm looking at going full-time if I can find a way to do it," was as far as Said would commit. "I've been working at it pretty hard. When I was 16, I got my first Bassmaster magazine, I opened it up and read about a tournament where a guy earned money. I'd never heard of that. By 18, I started fishing tournaments; I'm 29 now, and I fish 10 to 15 tournaments a year."
Leading in points going into the Chesapeake event, Said has his eye on a Classic ticket. "I've got a good chance here," he said. "I've never been to the Chesapeake, so it will definitely be a challenge."
He has 585 points, a solid head start of 73 points over Wisconsin angler Manson, whose tally is 512. The full standings can be found below.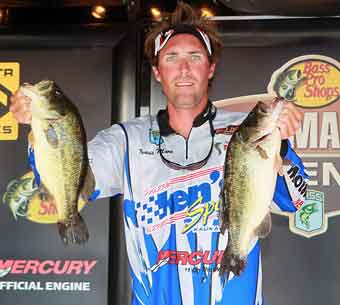 Wisconsin rookie bass pro Travis Manson has his work cut out for him defending his number two spot in the 2010 BASS Northern Open rankings
Photo Credit: BASS

Manson has his work cut out for him in defending his No. 2 spot. His first move will be to stave off Indiana's Harrison; Harrison trails Manson by just one point. Manson must also protect his status from Starks and Short, each less than 10 points back. The top 10 in points, in fact, are within 64 ticks of Manson.
The top 12 includes not only Short and Starks, but three other experienced Elite pros — Monroe, Quinn, and Howell — who plan to compete in the Chesapeake event.
Manson can't fall back on his Chesapeake background; like Said, he doesn't have any.
"Just like for the last two events, I've never been on that body of water (Chesapeake)," Manson said. "From what I hear, it's going to be mostly largemouth. I probably will dabble in smallmouth, but realistically, it's going to be a largemouth bite."