Skeeter Boats Continues Sponsorship of BASS with Multiple-Year Agreement
By editor on Sep 12, 2010 | In BASS

BASS News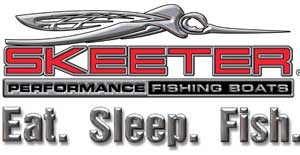 Skeeter Products, Inc., manufacturer of Skeeter brand high performance boats, and BASS, the worldwide authority on bass fishing, announced Tuesday that Skeeter will continue its sponsorship of the organization for multiple years.
As part of the long-term agreement, Skeeter will serve as an official boat sponsor of BASS' prestigious tournament structure including the Bassmaster Classic, Bassmaster Elite Series, Bass Pro Shops Bassmaster Opens and BASS Federation Nation presented by Yamaha and Skeeter Boats.
Skeeter will receive opportunities for exposure across BASS' multi-media platforms, which include three industry-leading magazines and the heavily-trafficked Bassmaster.com, and at BASS events. Skeeter will also reap the benefits of BASS' ESPN2 coverage.
"There is no better way for Skeeter to reach anglers than through BASS competition," said Jeff Stone, senior vice president and general manager of Skeeter Products. "The success of our new FX series bass boats is a testament to the power of reaching the right audience. BASS gives us a way to demonstrate the performance and value of our products to the professional anglers, their fans and the dedicated groups of amateurs who are the life blood of bass fishing. We look forward and are very committed to building on our already great relationship with the BASS community."
The Kilgore, Texas-based company signed on as an official sponsor in 2008 and extended their initial agreement for multiple years based on the success of the collaboration.
"Skeeter continues to showcase quality products and exhibits a commitment to anglers, both professional and amateur," said Tom Ricks, vice president and general manager, BASS. "We are pleased to continue our relationship with Skeeter."
For more information about Skeeter, visit www.skeeterboats.com.
For more information, contact BASS Communications at (407) 566-2208 or visit www.Bassmaster.com.
About Skeeter Products, Inc.
Skeeter Products, Inc., the Official Boat Sponsor of BASS, makes fishing and boating fun and rewarding with an owner's tournament, its "Real Money" tournament incentive program, and a top-notch dealer network. Skeeter designs and manufactures innovative and high-performing bass, walleye, fish & ski, and saltwater boats. Skeeter is the recipient of nine consecutive NMMA® C.S.I. Customer Satisfaction Index awards, and its boats are certified to meet strict U.S. Coast Guard and American Boat & Yacht Council standards.

For a catalog call (800) SKEETER, or for more information visit www.skeeterboats.com.

About BASS
For more than 40 years, BASS has served as the authority on bass fishing. The organization advances the sport through advocacy, outreach and its expansive tournament structure while championing efforts to connect directly with the passionate community of bass anglers through its Bassmaster media vehicles.
The Bassmaster brand and its considerable multimedia platforms are guided by a mission to serve all fishing fans. Through its industry-leading publications Bassmaster Magazine, BASS Times and Fishing Tackle Retailer; comprehensive Web properties in Bassmaster.com, BASSInsider.com, and ESPN3.com, and ESPN2 television programming, Bassmaster provides rich, leading-edge content true to the lifestyle.
BASS oversees the prestigious Bassmaster Tournament Trail, which includes the Bassmaster Elite Series, Bassmaster Opens, BASS Federation Nation and the ultimate celebration of competitive fishing, the Bassmaster Classic.
BASS offers an array of services to its more than 500,000 members while spearheading progressive, positive change on issues related to conservation and water access. The organization is headquartered in Celebration, Fla.