The remarkable rise of rookie Travis Manson
By editor on Sep 2, 2010 | In BASS, Pro Anglers, Northern
BASS News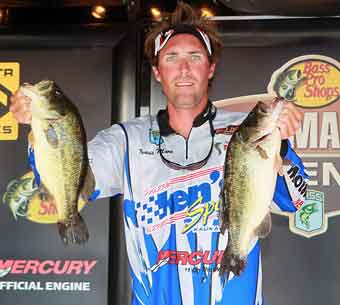 Bassmaster Northern Open rookie Travis Manson of Green Bay Wisconsin has worked his way into the number two spot in the points ranking
Photo Credit: BASS

It's not likely that the casual follower of bass fishing would recognize Travis Manson's photo, or would have heard of the Bassmaster Northern Open pro.
That could soon change.
In his first season at the pro level in a bass circuit of any brand, the 30-year-old from Green Bay, Wis., has managed to work his way into the No. 2 spot in the points ranking. With 512 points, he's sitting in one of two hot seats in the Northern Open points race to the 2011 Bassmaster Classic, and is in line to join the Bassmaster Elite Series.
No way does he have the coveted Classic seat all sewn up. Threatening hard — only one point behind — is seasoned angler Chip Harrison of Indiana. On Harrison's heals are two Bassmaster Elite Series pros: Jeremy Starks of West Virginia, with 508, and Kevin Short of Arkansas, who has 502. Yet Manson, finishing No. 16 and then No. 9 in the season's first two events, has already shown he can compete.
Manson had never before seen the Northern Open fisheries that got him this far. Lake Champlain was new water to him for the first event, as were Lake Erie, Lake St. Clair and the Detroit River for Northern No. 2.
Ditto for the Chesapeake Bay, site of the final and determining 2010 Northern event, set for Sept. 16-18 and hosted by Cecil County, Md. He plans to leave this week for Maryland to put in a chunk of practice time.
"It will be a major tournament for me," he said. "Originally my plan was to qualify for the Elite Series, but being No. 2 in points now, that goal has changed slightly," to include the Classic.
Growing up, fishing was all about walleyes, he said. He stared competing in walleye derbies at 16. (On Sept. 3, he'll turn 31.)
"I didn't start bass fishing until about four years ago," said Manson, who worked as a commodities trader after college, where he earned a marketing degree. "I was fortunate enough to have Mercury invite me to the first-ever Elite Series tournament (March 2006) as a co-angler. From that point on, I sold all my walleye gear and switched to bass."
Over the next two years, he was a Bassmaster co-angler six more times. He competed as a boater in local bass tournaments.
"I realized that the next step was going to have to be on a much bigger scale, and that's why I chose to do the Northern Opens," he said.
Now, so close to a Classic entry, missing it would naturally be disappointing. Because all top Northern pros will receive Elite Series invitations, his future as an Elite pro is more likely. He said that if asked, he'll commit to the circuit for 2011.
"I know you can't count on it until the tournament," he said. "I'll have to make sure I get five decent fish in the boat every day."