Bassmaster Elite pros always on the go
By editor on Sep 2, 2010 | In Bass Tournaments, BASS, Pro Anglers
BASS News
Even the world's best bass anglers don't kick back and wait months for the next season to begin. When the 2011 Elite season opens March 10-13 in Florida, most pros will have squeezed in a vacation, but few, if any of them, will have stayed idle for long.

For example:
Jeremy Starks, Kevin Short, Ish Monroe and Jason Quinn have worked their way into the top 10 in Bassmaster Northern Open points, putting themselves in contention for a 2011 Bassmaster Classic seat. The winners of the two Classic seats awarded through the Northern Open will be revealed Sept. 18 at the conclusion of the Chesapeake Bay season finale out of Cecil County, Md. Because all four missed a Classic berth through the 2010 Elite Series, any of them would welcome a Northern Open qualification.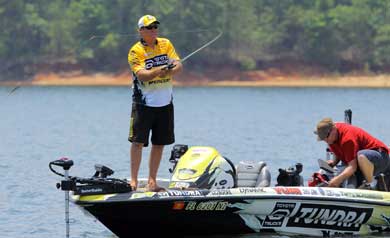 Bass pro Big Show Terry Scroggins appeared as the star of the inaugural live Day on the Lake on BASS Insider
Photo Credit: BASS
"Big Show" Terry Scroggins appeared as the star of the inaugural live and unedited production of "Day on the Lake" that aired on BASS Insider, the premium pages of Bassmaster.com. Within 15 minutes, he hooked into a 10-pounder. The unedited footage is still up for viewing, but only by Insider members. Click here, then pull down the "Membership" tab, to sign up for a 30-day trial.
Michael Iaconelli has been deep into his new venture, The Bass University. He and his partner, pro Pete Gluszek, have lined up five fall-winter seminars. Locations are Kissimmee, Fla., Chicago, Nashville, Tenn., Shreveport, La., and Framingham, Mass. Dates and details are at www.thebassuniversity.com
Boyd Duckett exhibited his new Duckett Fishing products at the July ICAST trade show, and has been working to get his new rod models to market.