Reehm moves to Texas
By editor on Aug 27, 2010 | In BASS, Pro Anglers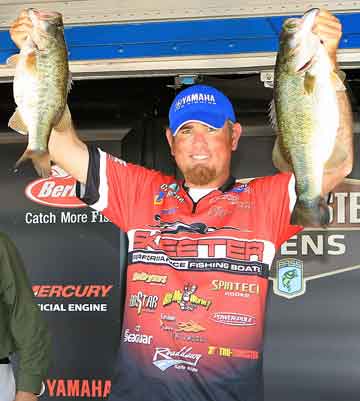 Lufkin Texas Pro bass angler Clark Reehm with two tournament largemouth bass
Photo Credit: BASS

Bassmaster Elite Series pro Clark Reehm has relocated to Lufkin, Texas, near Sam Rayburn Reservoir.
Lufkin is his girlfriend's hometown. They're expecting a child, a son, whom they plan to name Ash Rayburn — after, of course, the lake.
From Russellville, Ark., Reehm had been the only non-Texan in the top six of the Bassmaster Central Open points race.
Article courtesy of BASS News
About BASS
For more than 40 years, BASS has served as the authority on bass fishing. The organization advances the sport through advocacy, outreach and its expansive tournament structure while championing efforts to connect directly with the passionate community of bass anglers through its Bassmaster media vehicles.
The Bassmaster brand and its considerable multimedia platforms are guided by a mission to serve all fishing fans. Through its industry-leading publications Bassmaster Magazine, BASS Times and Fishing Tackle Retailer; comprehensive Web properties in Bassmaster.com, BASSInsider.com, and ESPN3.com, and ESPN2 television programming, Bassmaster provides rich, leading-edge content true to the lifestyle.
BASS oversees the prestigious Bassmaster Tournament Trail, which includes the Bassmaster Elite Series, Bassmaster Opens, BASS Federation Nation and the ultimate celebration of competitive fishing, the Bassmaster Classic.
BASS offers an array of services to its more than 500,000 members while spearheading progressive, positive change on issues related to conservation and water access. The organization is headquartered in Celebration, Fla.