Indiana's Todd Schmitz Takes Bassmaster Northern Open on Detroit River
By editor on Aug 21, 2010 | In Bass Tournaments, BASS Opens, BASS, Northern
GreatLakesBass.com Member Ryan Said is Northern Opens Points Leader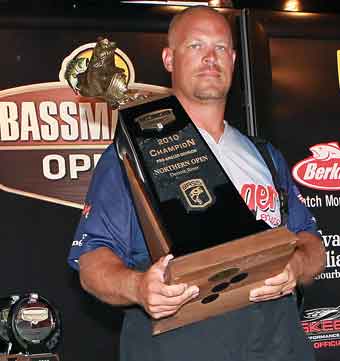 Goshen Indiana pro Todd Schmitz wins 2010 BASS Northern Open Detroit River with 61 pounds
Photo Credit: BASS

Todd Schmitz of Goshen, Ind., had the deck stacked against him on the final day of the 2010 Bass Pro Shops Bassmaster Northern Open on the Detroit River. He started Saturday in ninth place and more than five pounds behind leader Chris King, who had smacked 25-plus pounds Friday.
But King of South Amherst, Ohio, faltered Saturday and didn't weigh in a single fish. The honey hole he relied on for the two previous days dried up and King wound up in 20th place, which opened the door for Schmitz. Schmitz boated 23-13, the second heaviest bag of the tournament and the heaviest of the final day, to build his three-day total to 61-0. With the victory, Schmitz will take home more than $46,000 and valuable points in the Bassmaster Northern Open circuit.
Schmitz is no stranger to success in BASS competition, registering two previous wins with BASS, but this is without a doubt the biggest.
"This is unreal, I mean I'm thrilled and all, but it really hasn't set in yet," Schmitz said as he shielded his trophy from the rain. "To be able to compete – and win – against guys this good is unbelievable. I couldn't be happier."
Schmitz's practice was cut short as he had to work on Sunday and Monday. However, the fish he found in Lake St. Clair proved to be reliable enough to sustain him over three days. He was throwing a Bomber Fat Free Shad in perch colors and mixed things up -- a more natural shade when the sun was out and a brighter scheme during overcast skies – depending on the conditions. He focused on sandy spots near the shipping channel in St. Clair.
"The water I was catching them in was slightly cooler than the rest of the lake," the national RV rep said. "They'd move around a lot and it was just a matter of finding them each day."

Day 1 Leader Pro Angler David Hasty of Toledo Ohio finished 2nd behind Schmitz by 13 ounces
Photo Credit: BASS

Day 1 leader and Lake Erie guide David Hasty of Toledo, Ohio, brought 16-14 to the scales the final day, falling just 13 ounces short with a three-day total of 59-3. Hasty found that the Detroit River had dropped more than a foot the final day, which scattered his fish.
"They moved, and I caught some good fish, but not like I was the first two days," he said.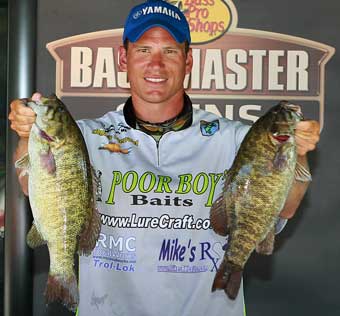 Local favorite Ryan Said of Wixom finished 3rd thanks to a strong 20 pounds sack on day 3 but more importantly takes the Northern Opens Points Lead
Photo Credit: BASS

Behind Hasty was local favorite Ryan Said, of Wixom, Mich., who made a strong case for the win with his 20-9 limit on the final day and 56-10 total. In fourth was Art Ferguson of St. Clair Shores, Mich., who added 17-12 to his weigh for a total of 56-7. In fifth place was Chad Pipkens of Holt, Mich., who caught 18-11 the final day for a total of 56-5.
Pages: 1· 2
3 comments
Pretty cool! I was talking to Todd Schmitz about his victory and he told me when here first moved to our region a few years ago, he found GreatLakesBass.com and visited the site to try to put together information about the fishing in our region. I was glad to hear that. I also met a number of people for the first time who are also members or regular visitors of GreatLakesBass.com!
Way to go Todd……from your uncle Bob and aunt Helen in Baxter, Minnesota.
You have worked hard to get there.