Classic hopes float
By editor on Aug 17, 2010 | In BASS Opens, BASS, BASS Federation Nation, Bassmaster Classic, Pro Anglers, Northern
California's Lintner waits it out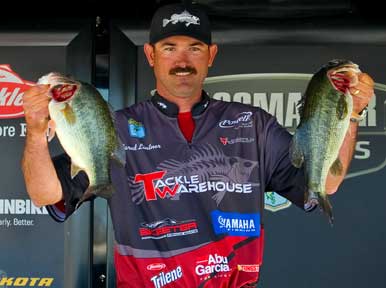 Photo courtesy of BASS Communications / Seigo Saito Aug 17, 2010
California's Lintner is first out, first in: It's not news that the outcome of this week's Bass Pro Shops Bassmaster Northern Open tournament in Detroit will be pivotal for pros in their bids to snag 2011 Bassmaster Classic berths.
Less obvious is that several of those Classic hopefuls are not entered in that Aug. 19-21 Detroit Open.
Case in point is Jared Lintner, Bassmaster Elite Series pro from Arroyo Grande, Calif. He was first man out for the 2011 Classic, but he would be the first in if just one of his fellow Elite pros double-qualifies when the Northern circuit wraps up next month and awards two Classic berths.
"Actually, my wife has been keeping closer track of the Opens than I have," said Lintner, who is bucking for his third Classic entry. "But I know what's going on, what could happen."
He (and his wife) are tracking four Elite pros competing in the Detroit Open who already earned entry through the Elite Series: Scott Rook, Mike McClelland, Michael Iaconelli and Gerald Swindle. If any one of them finishes the Northern season in the top two, then Lintner would be in the Classic.
His best hopes are with Rook; the Arkansas pro is 12th in the Open standings. Yet with two events of three remaining, any of the four could pull up. Swindle sits in 43rd; McClelland in 59th; Iaconelli in 72nd.
If the Northern scenarios don't pan out for Lintner, he still could punch a Classic ticket via the Southern Open circuit. He has several good chances, especially with Bobby Lane. After two of three Southern Open events, Lane is No. 2.
"I can only hope he has one more good event," Lintner said. "He looks like my best shot now."