West Coast Anglers Take Charge Of Forrest Wood Cup On Lake Lanier
By editor on Aug 7, 2010 | In Bass Tournaments, FLW Tour, FLW Outdoors, Forrest Wood Cup
Rodgers Wins Forrest Wood Cup Co-Angler Title, $65,000
GreatLakesBass.com Member Chad Pipkens Finishes 7th!!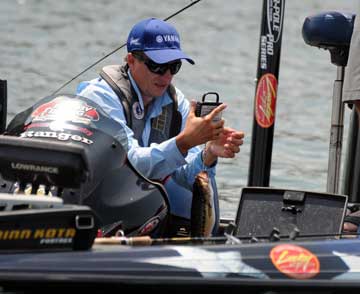 Duluth, Ga. (Aug. 7, 2010) - National Guard pro Brent Ehrler of Redlands, Calif., crossed the stage with a five-bass limit weighing 14 pounds, 4 ounces to lead day three of the Forrest Wood Cup on Lake Lanier, putting himself in position to become the first angler to win the coveted title for a second time. Ehrler, with a three-day total of 15 bass for 39-3, holds an 8-ounce lead over Cody Meyer of Grass Valley, Calif., who caught five bass weighing 11-5 for a three-day total of 15 bass for 38-11. The Forrest Wood Cup, a tournament featuring 78 of the world's best professional bass anglers, will be decided from the top-six pros fishing Sunday.
"I'm fishing deep and going to some of the same spots," said Ehrler, who won the Forrest Wood Cup in 2006. "I have a couple of core spots that I've been fishing and just catching one or two off of each spot. I have four spots that I really like and then I've been rotating through more than that.
"It's not easy," Ehrler added. "When you're only fishing four spots a day and you're only catching five or six fish a day, that's not a good day. It's not easy. It takes time to catch them."
Ehrler said he fished a drop-shot rig 20 to 25 feet deep and is worried about catching one keeper at a time. Ehrler said the fish he caught were either good, solid keepers or short fish - nothing in between.
"If I could get those bites to happen faster then I could relax a little bit and bounce around and be more open-minded," Ehrler said. "But when you only have two in the box or three in the box, you tend to kind of freeze up a little bit."
Meyer said his half-pound deficit going into the final day of competition has him feeling confident.
"I started off fishing the same water that I've been fishing all week, and it was extremely tough," Meyer said. "I had two small fish - two extremely small keepers at 9:30 and continued throwing the drop shot. That's all I've been catching my fish on all week."
Meyer said he struggled through the day and finally managed to catch his third keeper at 11:30, then caught his final two keepers within the next 20 minutes. He has confidence that the area he's fishing holds big fish, however, he said getting five to bite will be difficult.
"I'm pulling up on select brushpiles and throwing the drop shot in there," Meyer said. "Sometimes the first cast is right in there, and if I see fish suspended above it I'll actually drop it on them and fish it vertically above them. It can be 10 feet off the bottom or three feet off the bottom.
"I would kind of rather be behind because you have nothing to lose," Meyer added. "Brent is an amazing fisherman. In my opinion, he's the best in the world. I fish against him all the time and he's hard to beat. Any time I get to beat him back home is a privilege. It's not very often, but he can be beat. Anyone can be beat."
Rounding out the top-six pros after day three on Lake Lanier are:
3rd: Chevy pro Larry Nixon, Bee Branch, Ark., 15 bass, 37-7
4th: Kevin Hawk, Ramona, Calif., 15 bass, 36-1
5th: Ronald Hobbs Jr, Orting, Wash., 15 bass, 35-3
6th: Troy Morrow, Toccoa, Ga., 15 bass, 35-1
Rounding out the rest of the top-10 pros were:
7th: Tom Mann Jr, Buford, Ga., 15 bass, 34-10, $40,000
8th: Jason Christie, Park Hill, Okla., 14 bass, 33-1, $35,000
9th: Jason Meninger, Gainesville, Ga., 13 bass, 32-6, $30,000
10th: Damiki pro Bryan Thrift, Shelby, N.C., 15 bass, 31-12, $25,000
Overall there were 107 bass weighing 236 pounds, 5 ounces caught by 30 pros Saturday. The catch included 12 five-bass limits.
The third day of competition marks the cut to the top six pros and crowning the co-angler champion. Pros are competing for the title of Forrest Wood Cup champion, the most prestigious award in professional bass fishing, as well as a top award of up to $600,000 - the sport's biggest award.
Dereal Rodgers of Camden, S.C., won the Co-angler Division with 14 bass weighing 27-3. The win earned Rodgers $65,000 and comes on the heels of being crowned the 2009 FLW Tour Co-Angler of the Year.
"I swear this is about one dollar for every morning I woke (my wife) up early getting ready to go to a tournament," Rodgers said. "It's been a long time and I've been trying hard. I'm just happy. That's all I can say.
Pages: 1· 2