ROSE GOES WIRE-TO-WIRE TO WIN STREN SERIES CHAMPIONSHIP ON PICKWICK LAKE
By editor on Nov 7, 2009 | In Bass Tournaments, Stren Series, FLW Outdoors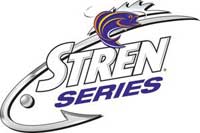 Rounds takes Co-Angler title, $35,000
FLORENCE, Ala. (Nov. 7, 2009) – Mark Rose of Marion, Ark., never gave away the lead at the Stren Series Championship on Pickwick Lake and weighed five fish Saturday for 17 pounds, 6 ounces to win the title and $115,000. Rose finished with a three-day total of 15 fish weighing 55-1.
"It's been a special week," said Rose, who has won more than $902,000 in FLW Outdoors competition. "Fishing is a big mental game. You have to ride the highs.
"I caught them real quick today and that let me just sit back and relax and just appreciate the reason I'm out here fishing," Rose added. "We've got to remember we're out here because we love this sport. We have a passion for the outdoors. I was just out there enjoying the outdoors today."
On the first day of competition, Rose said he began the day fishing a school of fish close to the McFarland Park launch and caught his limit and then made a run to his next spot more than 80 miles away in tiny Bay Springs Lake. On the second day of competition, Rose said he caught only one 12-inch fish in his first spot and decided to make the long run. On Saturday, Rose briefly fished his close spot to start with but came up empty and made the run to Bay Springs Lake.
Rose said he fished a "loud" shad-colored jerkbait because he felt the fish wanted to hit something off the bottom. Rose said he fished the jerkbait 8 to 10 feet deep over clay bottoms.
"I could have caught them on a topwater, but I had too much wind every day," Rose said. "I would have rather thrown a big topwater bait because the further you can get them to come up, the better they commit. You could get bites with anything on the bottom, but they were not as good. I call it kamikaze fishing in the fall. You just want them to come up and slam it."
Rose said Bay Springs Lake isn't a good fishery year-round, but when cool weather arrives and the fish move up in the top of the water column, it is capable of giving up large fish.
"I like that place because of all the pressure Pickwick gets," Rose said. "I wanted to do something to make a difference, so I went down there and figured something out.
"This particular body of water is just special to me," Rose added. "I can just read it good."
Team National Guard pro Jonathan Newton of Rogersville, Ala., finished in second place with a three-day total of 15 fish weighing 50-10 worth $25,000.
Rounding out the top five places are Team Land O'Lakes pro Ott Defoe of Knoxville, Tenn. (15 bass, 47-6, $34,000); Keith Pace of Monticello, Ark. (15 bass, 45-7, $19,000); and Scott Canterbury of Springville, Ala. (15 bass, 44-6, $20,000).
Overall there were 50 bass weighing 129 pounds, 11 ounces caught by pros Thursday.
Pages: 1· 2