Bruce Kraemer lands pending state record Michigan smallmouth bass
By editor on Sep 13, 2016 | In News, Bass Fishing, Fishing, MI Dept of Natural Resources

9.98 pound smallmouth bass landed from the Indian River
UPDATE: Bruce Kraemer's giant smallmouth bass was certified as the new Michigan state record a couple days later by the Michigan DNR.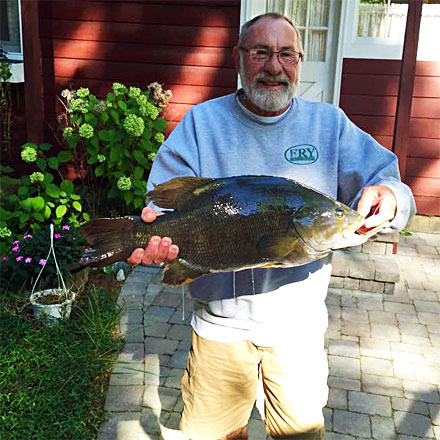 Bruce Kraemer landed a huge 9.98 pounds smallmouth bass from Michigan's Indian River on September 11, 2016. Photo Credit: Ron Krieg/Bruce Kraemer
Bruce Kraemer of Indian River, Michigan likes to fish the Indian River. It's just a few hundred feet from his house so it's convenient to fish his favorite shore fishing point. On September 11 Bruce was using his favorite rig he calls the tri-rig - a three way rig with a weight dropper. Bruce does this to keep the gobies from gobbling up his live nightcrawler he uses for bait.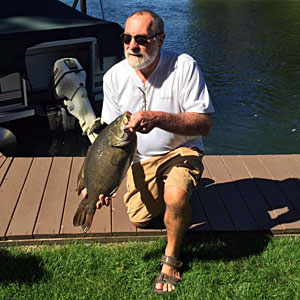 Bruce Kraemer shows his monster toad 9.98 pounds smallmouth bass he caught on a nightcrawler from Michigan's Indian River on September 11, 2016. Photo Credit: Ron Krieg/Bruce Kraemer
Bruce cast out his rig and lets it sit in the river hoping for some bass, walleye or the occasional nice perch. On this day he set the hook and felt like he had a snag. Bruce figured a goby had taken his nightcrawler under a big log in the river, and then it started moving! That's when Bruce knew he had a big fish!
Bruce keeps a net handy but he was busy trying not to lose this huge smallmouth bass he saw hooked on his line in the clear waters of the Indian River. Luckily, his neighbor's wife looked out the window and told her husband Ron Krieg that she thought Bruce had a big fish on. Ron walked out to Bruce to see what was going on and was able to help just in time by netting the giant smallmouth bass.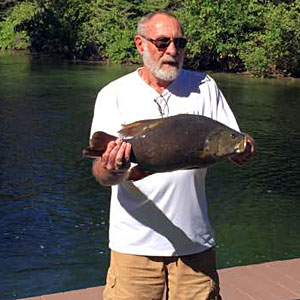 Bruce Kraemer caught this giant 9.98 pounds Michigan smallmouth bass fishing from shore on the Indian River with a live nightcrawler on a three-way rig Photo Credit: Ron Krieg/Bruce Kraemer
Bruce says he's not sure he would have been able to land the monster without the help because the bass was so big, and he had it hooked only a single number 4 Eagle Claw hook! Once netted, the excitement really began as they realized just how big this toad smallmouth bass was. They took a bunch of pictures and then began the work to get it to a certified scales and in front of an MDNR Fisheries Biologist to get certified as a potential new Michigan State Record Smallmouth Bass!
Bruce Kraemer was using 8 pounds test P-Line Fluorocarbon on his reel with a 10 pounds test leader to the single hook. Fortunately, the huge smallmouth bass was hooked right in the roof of the mouth so he was able to keep it on the hook and fight it to shore. The bass took a single live nightcrawler.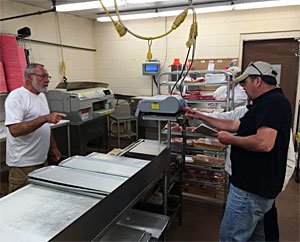 Bruce Kraemer looks on (L) as they check the certified scales on September 12, 2016 before weighing his big smallmouth bass. Photo Credit: Ron Krieg/Bruce Kraemer
Now, Bruce is just waiting, pending for confirmation from the Michigan Department of Natural Resources that he does indeed have the new state record smallmouth bass just months after the previous record was broken from Hubbard Lake by Greg Gasiciel with his 9 pound 4 ounce bass. Bruce's big smallmouth bass, at 9.98 pounds crushes that record and becomes one of the biggest smallmouth bass ever certified anywhere in North America!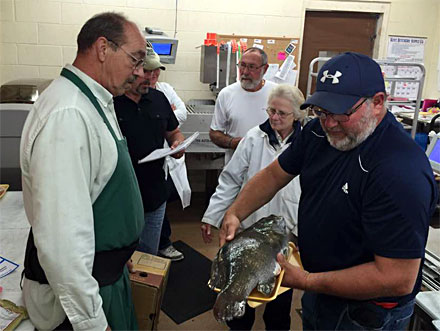 Bruce Kraemer (Center rear) looks on as his giant smallmouth bass is prepared for the official weigh in. Photo Credit: Ron Krieg/Bruce Kraemer
Bruce told me he also likes to troll the Indian River at night a little to pick up some walleye now and then but his most common fishing approach is fishing the three-way rig from shore on his favorite point, a point that now will go down in history as one excellent fishing spot! Bruce is having the huge fish mounted to display in a nice place for posterity.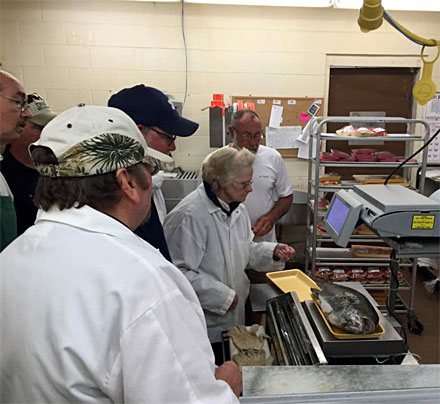 Bruce Kraemer's huge smallmouth bass is weighed on certified scales in front of witnesses including MDNR Fisheries Biologist Tim Cwalinski. Photo Credit: Ron Krieg/Bruce Kraemer
Tim Cwalinski, MDNR Fisheries Biologist from Gaylord is the MDNR person who witnessed the official weighing of the huge bass, getting some good pictures too. He verified that it is a smallmouth bass weighing 9.98 pounds. This was done yesterday (September 12, 2016) and he has sent the proper information to the Lansing office where Lynne Thoma is in charge of finalizing state record submissions.
Cwalinsi actually says he expects the record to be broken again because the fish populations have changed dynamically in Northern Michigan with the introduction of new forage species like gobies and rusty crayfish. For now, we wait to see if this latest monster catch is certified as a new state record, and we'll see how long it stands after Gasiciel's record stood less than one year!