Steve Clapper Inducted into the Freshwater Fishing Hall of Fame
By editor on May 27, 2016 | In News, Bass Fishing, Fishing, Boating
Millennium Promotions News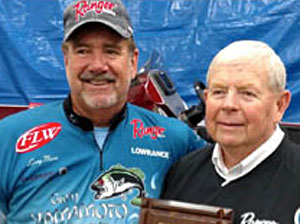 Larry Nixon inducts Steve Clapper into the Freshwater Fishing Hall of Fame. Photo Credit: Millennium Promotions
Big water angler; innovator earns his due
Hayward, WI (May 9, 2016) – The mission of the National Freshwater Fishing Hall of Fame is to recognize extraordinary members of the fishing community who not only fulfill their dreams, but also create an environment to expand the sport of freshwater fishing.
Through the 2016 selection of legendary Great Lakes angler Steve Clapper, the Hall hit the nail on the head. Through a career spanning three decades, Clapper has led the charge as one of the most recognized big-water bass fishermen of all time. His list of tournament victories is far too long to list, or often even remember. Possibly Clapper's greatest win to date was taking down the 2007 FLW Chevy Open on Lake Erie's Detroit River, where he survived four days of brutal wind and waves to win in true legendary fashion.
Perhaps Clapper's greatest accomplishments, however, have been outside of the competitive arena. He is an educator without effort, teaching thousands of anglers better ways to catch trophy smallmouth in some of the most challenging conditions. In addition, through his relentless testing, Clapper has helped guide manufacturers to create better products to overcome these unique situations. In fact, Clapper's latest R&D efforts directly aided Ranger Boats in the design of their new big-water dominator, the massive 522D bass boat.
In addition to being an influence to nearly every competitive Northern bass fisherman, Clapper has been an equal inspiration to many as a human being. Clapper's unwavering commitment to faith and family shines through in his gentle demeanor and unpretentious love for the sport of fishing and it's array of players. Despite his many accomplishments, Clapper continues to be a leading example of one of bass fishing's good guys.
Now approaching retirement age, Clapper competes in bass tournaments less often, but with no less vigor. The Lake Erie BassMaster Open of 2016 was a case in point; Clapper chased the leaders the entire event, ending with another top-10 finish.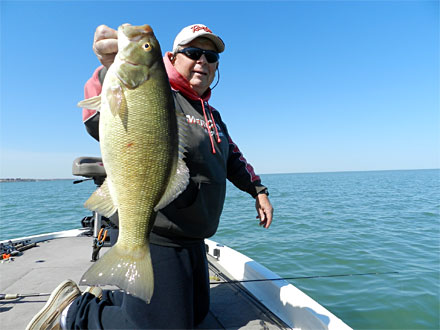 Steve Clapper with his favorite fish - a Lake Erie smallmouth bass. Photo Credit: Millennium Promotions
By recognizing Steve Clapper as a member of the 2016 inductee group, the Freshwater Fishing Hall of Fame made a supreme choice. Perhaps no fisherman has expanded bass fishing in big waters like Clapper, and none likely will again.