Greg Gasiciel Lands Michigan State Record Smallmouth Bass
By editor on Oct 20, 2015 | In News, Bass Fishing, Fishing, MI Dept of Natural Resources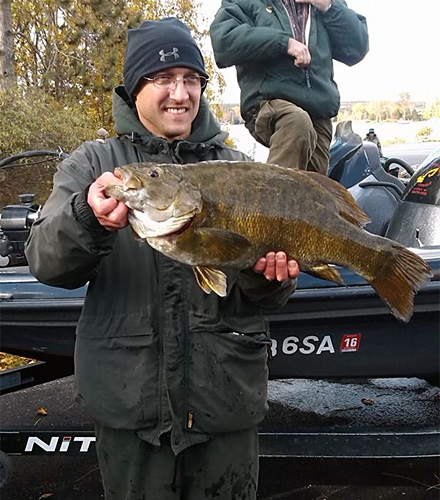 Michigan bass tournament angler Greg Gasiciel shows his record-sized 9.32 pounds smallmouth bass he caught fishing the Hubbard Lake Open. Photo Credit: Bill McQuarrie
Rhodes, Michigan bass tournament angler Greg Gasiciel landed the smallmouth bass of a lifetime Sunday, October 18, 2015 while fishing the Bass Anglers of the Sunrise Side Hubbard Lake Open. Gasiciel was fishing a grub shallow along the shoreline when the giant 9.32 pounds smallmouth bass bit. Tournament partner Scott Somerfield netted the monster smallmouth bass.
The pair only had 3 bites on the snowy Sunday, landing 2 of them. Their other bass was a 6-pounder. Somerfield says the 3rd bass they lost was another giant bass bigger than the 6-pounder but not quite as big as the huge 9-pounder!
Gasiciel was scheduled to show his giant catch for verification of species to the Michigan Department of Natural Resources Fisheries Biologist Kathrin Schrouder on Monday night. He already weighed the big bass on 2 different certified scales both showing 9.32 pounds matching the earlier bass tournament weight. The weights were done at the Side Door Bait and Tackle on the South end of Hubbard Lake and a local grocery store.
If everything checks out as expected, Gasiciel's big catch will become the new Michigan state record smallmouth bass besting the 9 pound 4 ounce smallmouth bass record that has stood since 1906. Some anglers have questioned the validity of the 1906 catch but those points will be moot if Gasiciel's big bass is certified as the new state record. We'll share more details with you if and when they become available. Congratulations to angler Greg Gasiciel on the bass tournament catch of a lifetime!
Tony Barnes, one of the organizers of the Bass Anglers of the Sunrise Side Hubbard Lake Open, shared some of the above information with GreatLakesBass.com saying Hubbard Lake has already become a lot more popular the past few seasons for bass tournaments. Last year's Hubbard Lake tournament was won by 7 bass weighing 36 pounds including a 7-pound big bass!
Hubbard Lake (PDF Lake Map) is in Northeast Michigan's Alcona County a few miles Southwest of Thunder Bay (Alpena, Michigan). Hubbard is one of Michigan's largest inland lakes at 8,850 acres.