Outdoor Adventure Center public opening set for July 20
By editor on Jul 10, 2015 | In News, Outdoors, MI Dept of Natural Resources
MDNR News
Special programming and hours mark launch of MDNR's Detroit site that aims to bring Up North, Downtown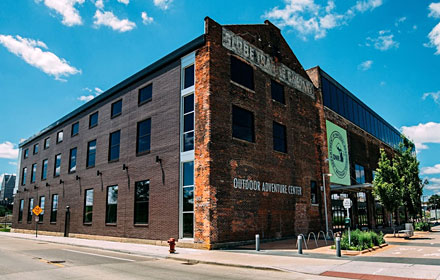 The Outdoor Adventure Center is housed in what was the Globe Building. Much of the historical integrity of the building was maintained during construction, including walls of original brick, cast iron and Wellman trusses. Photo Credit: MDNR
After nearly three years of planning, renovation, exhibit construction and final touches, the Michigan Department of Natural Resources Outdoor Adventure Center in downtown Detroit is ready to open its doors Monday, July 20. The Outdoor Adventure Center – located across from William G. Milliken State Park and Harbor at the intersection of Atwater Street and the Dequindre Cut Trail – brings "Up North, Downtown" through hands-on, interactive exhibits and experiences about Michigan's out-of-doors in the three-story, 41,000-square-foot indoor facility.
The Outdoor Adventure Center invites guests to enjoy an up-close indoor exploration of Michigan's great outdoors. The center features a 40-foot-tall, manmade, interactive tree; off-road vehicle, bicycle, kayak, canoe and fishing-boat simulators; a life-size beaver lodge and eagle's nest; an indoor archery range; a 3,000-gallon, freshwater aquarium; a man-made waterfall with a 36-foot drop; and plenty more to see and experience.
"The Outdoor Adventure Center offers another Pure Michigan, natural resources experience along the Detroit riverfront," said DNR Director Keith Creagh. "With natural resources playing such a vital role in quality of life, families are encouraged to explore the center and then head outside to experience our state's natural resources, including its many outdoor recreational opportunities along the riverfront right in downtown Detroit."
Milliken State Park and Harbor and Belle Isle Park are nearby the Outdoor Adventure Center, offering many "next steps" – including kayaking, canoeing, fishing, biking, hiking, archery and more – for both beginning and experienced outdoor enthusiasts.
Linda Walter, director of the Outdoor Adventure Center, said that the goal of the center is to inspire, educate and connect people with Michigan's rich array of natural resources.
"By encouraging up-close, hands-on experiences, we strive to equip people to set out on their own adventures to explore our state's many outdoor recreational opportunities, including hiking, camping, fishing, hunting and trapping," Walter said.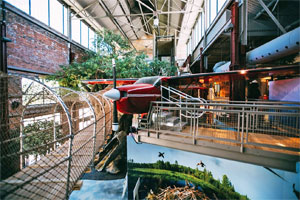 Get inside this Cessna 337C while learning how the Michigan DNR uses airplanes to detect and fight forest fires and to survey and manage wildlife. Photo Credit: MDNR
While visiting the Outdoor Adventure Center, Walter said that children actually can climb around and through the giant tree, explore a cave, walk behind a waterfall or sit in an airplane similar to those used by the DNR for fire-spotting over dense forests.
"The Outdoor Adventure Center will serve as a gateway to Michigan's out-of-doors," said Ron Olson, chief of the DNR Parks and Recreation Division. "It will provide many unique opportunities to learn about the state's natural resources, the DNR's role in managing these resources and the many venues for outdoor recreation."
Opening week, the facility will operate from noon to 4 p.m., Monday, July 20, through Friday, July 24. Regular hours begin Saturday, July 25, from 10 a.m. to 5 p.m. and Sunday, July 26, from noon to 5 p.m.
During its first days of operation, the OAC will offer special activities for the public, which include:
Monday, July 20, celebrate history with special appearances by Miz Rosie the Storyteller, who tells the story of the Underground Railroad as Harriet Tubman, and participate in physical fitness activities and games outside the facility, courtesy of the United States Army.
Tuesday, July 21, get up close to live Michigan birds, amphibians and reptiles with the teams from Nature Discovery and Wildlife Recovery Association.
Wednesday, July 22, experience art during the unveiling of an original art piece by Louise Phillips of Washington, D.C., courtesy of the United States Forest Service, and through hands-on, nature-themed art experiences available throughout the day.
Thursday, July 23, view a showing of "An American Ascent," which documents the first African-American expedition to Denali, North America's highest peak.
Friday, July 24, get up close to bats while talking to instructors from the Organization for Bat Conservation at the Cranbrook Institute of Science.
After opening week, regular business hours are 10 a.m. to 4 p.m. Wednesdays, Thursdays and Fridays; 10 a.m. to 5 p.m. Saturdays, and noon to 5 p.m. Sundays. The facility is closed on Mondays and Tuesdays, with the exception of opening week. Look for special days each month, beginning in August, when "Wild about Wednesday" programs will offer extended hours, special programs and/or complimentary admission.
Admission is $5 for adults, $3 for seniors (age 62 and older), $3 for children ages 2-12 and free for children under 2. Annual family memberships also are available for $50.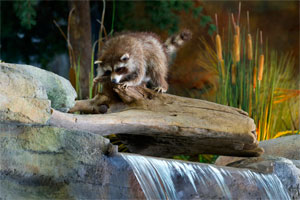 Wildlife mounts, such as this raccoon, are displayed throughout the Outdoor Adventure Center. Other mounts include deer, turkey, bear, elk and more. Photo Credit: MDNR
School groups are encouraged to visit, and should call for reservations. The facility also is available as rental space for weddings, birthday parties, meetings, company events and other special occasions. For more information or to make reservations, call 1-844-OAC-MDNR (1-844-622-6367).
A unique blend of public/private sponsorships helped make the center and its exhibits a reality. Interested corporate sponsors that would like to fund long-term exhibit maintenance and updates are asked to contact Miguel Rodriguez at 517-284-6127 to learn about sponsorship opportunities.
A Recreation Passport is not needed to access Outdoor Adventure Center parking or to enter the building. However, the Recreation Passport, required for access to Michigan's 102 state parks (including Belle Isle Park), can be purchased at the Outdoor Adventure Center during regular business hours.
For more information on the Outdoor Adventure Center, including location, normal hours of operation, interactive exhibits and school group visits, go to www.michigan.gov/oac.