Shinichi Fukae renews with Troll Perfect Pro Staff
By editor on Feb 1, 2013 | In News, Products, Sponsors, Bass Fishing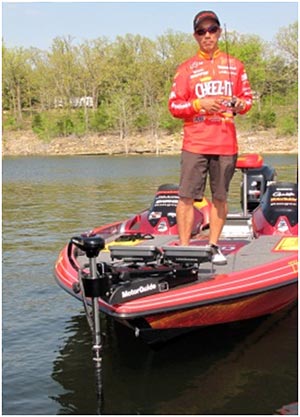 Professional bass angler Shinichi Fukae renews his pro staff partnership with Perfect Outdoor Products Troll Perfect. Photo Credit: Perfect Outdoor Products
Perfect Outdoor Products manufacturers of the patented Troll Perfect trolling motor tension adjusting system (trollperfect.com), is pleased to announce the renewal of the partnership with FLW Series angler Schinichi Fukae.
Schinichi, a successful veteran professional angler and fishing guide from Palestine, Texas, will be using a Troll Perfect on his boat during the 2013 season. In his career, since 2004, he has 3 wins, and 20 top ten finishes, and has held titles ranging from "Rookie of the year" to "Angler of the Year." In fact, he is the only fisherman to win "Angler Of The Year" titles in two countries (U.S. and Japan). His total earnings have topped the $1,000,000 mark.
Senior Manager Ed Laabs adds, "We are proud to continue to have a great fisherman and true gentleman like Shinichi Fukae representing, and assisting in the promotion of our Troll Perfect products."
We feel our Troll Perfect product can benefit all anglers, and will certainly offer Shinichi an extra advantage which will compliment his fishing skills during the 2013 tournament schedule." For more information, call 248-747-8520, write to: Perfect Outdoor Products, PO Box 70551, Rochester Hills MI 48307, or visit our website: www.trollperfect.com.
Read more about Shinichi Fukae at: www.shinfukaefishing.com.