Niles man catches new Michigan state record flathead catfish
By editor on Jun 4, 2012 | In News, Fishing, MI Dept of Natural Resources

MDNR News
Rodney Akey breaks Michigan record set in 1943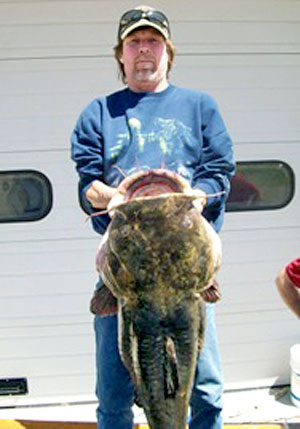 Rodney Akey with his record-setting catch 49.8 pounds flathead catfish from the St Joseph River in Michigan. Photo Credit: MDNR
The Department of Natural Resources recently confirmed the catch of a new state record flathead catfish.
Caught by Rodney Akey of Niles, Michigan, on Tuesday, May 22, on the St. Joseph River in Berrien County at 8 p.m., the fish weighed 49.8 pounds and measured 45.7 inches. Akey was still-fishing from shore with an alewife when he landed the record fish.
The record was verified by Scott Hanshue, a DNR fisheries biologist, at the DNR's Plainwell office.
The previous state record flathead catfish was caught by Elmer Rayner of Hastings, Mich., on the Maple River in Ionia County on Aug. 6, 1943. That fish weighed in at 47.5 pounds and measured 44 inches.
"I've been fishing catfish on the St. Joseph River for the last 20 years, but it never crossed my mind that I would catch a state record," said Akey. "And beating a nearly 70-year record - that's a feat in itself!"
State records are recognized by weight only. To qualify for a state record, fish must exceed the current listed state record weight, and identification must be verified by a DNR fisheries biologist.
For more information about record-breaking fish caught in Michigan, visit www.michigan.gov/masterangler.
The Michigan Department of Natural Resources is committed to the conservation, protection, management, use and enjoyment of the state's natural and cultural resources for current and future generations. For more information, go to www.michigan.gov/dnr.