Lews taps Wellman team for top sales honors
By editor on Jun 4, 2012 | In News, Products, Bass Fishing, Fishing

Lew's News
SPRINGFIELD, Mo. (June 1, 2012) - Lew's sales representatives gathered in Springfield, Mo., last week for the company's second annual national sales meeting, during which one group and one individual were recognized for their respective outstanding sales performances in 2011 - 2012.
The Lew's Rep Group of the Year Award was presented to Wellman Sports Marketing for achieving the greatest percentage increase in sales from 2011 to 2012. Headquartered in Plymouth, Minn., the Wellman group is responsible for Lew's sales in Connecticut, Delaware, Illinois, Indiana, Maine, Maryland, Massachusetts, Michigan, Minnesota, New Hampshire, New Jersey, New York, North Dakota, Ohio, Pennsylvania, Rhode Island, South Dakota, Vermont and Wisconsin.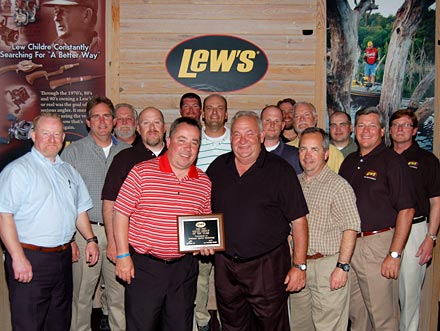 Wellman Sports Marketing associates and Lew's executives (left to right) Don Demoss, Matt Edwards, Lynn Reeves (Lew's), David Moore, Chris Petersen, Jedd Culler, Bryan Plenzler, Joe Nieminski, Reid Culler, Andy Petersen, Paul Schwengel, Tim Petersen, Rob Abers, Gary Remensnyder (Lew's) and Richard LaBauve (Lew's).
Photo Credit: Lew's

The Wellman sales team consists of Rob Abers, John Burgess, Jedd Culler, Reid Culler, Don Demoss, Matt Edwards, Ross Evans, Kevin McKinney, David Moore, Joe Nieminski, Mark Palinsky, Andy Petersen, Chris Petersen, John Petersen, Tim Petersen, Bryan Plenzler and Paul Schwengel.
"When we started comparing sales numbers to the previous year's to determine who would take this award home, we were blown away," said Lew's President Gary Remensnyder in presenting the award. "Everyone in this room had a fantastic year, and we'd like to extend our congrats and appreciation to all."
The other sales recognition during the meeting was for the top individual sales performance, appropriately named the Speed Sales Award in honor of the company's legendary Speed Spool® and Speed Stick® product lines. The 2011-2012 Speed Sales Award was presented to Lew's internal salesman Mike Mitchell of Shreveport, La. In his Louisiana and Texas territory, Mitchell had the greatest percentage increase in the number of doors opened during the past 12 months.
In addition to Wellman and Mitchell's efforts, Lew's also receives sales representation from Kern Tackle, L.H. French Co., Mid America Sport Sales and Tim Hunter & Associates.
"We couldn't ask for a more dedicated sales force, and we appreciate how much they've done for our Lew's and Wally Marshall branded rods and reels in such a short timeframe," said Lynn Reeves, Lew's CEO. "After last week's enthusiastic reception to our new-for-2013 product introductions, we're all excited about the opportunity to show them off to the rest of the world at the ICAST tradeshow in July."
The 2013 Lew's line includes more than 100 all-new models, as well as upgrades to several in-line products within the baitcast and spinning rods, reels and combos offered exclusively under the Lew's and Wally Marshall brands.
Although Lew's has been an important name in fishing for more than 60 years, Reeves acquired the rights to it and all related brands from the Lew Childre family in late 2009. He and his management team have been highly successful in reestablishing Lew's rods and reels in the marketplace since the acquisition.
For more information about Lew's products and its sales teams, visit www.Lews.com.