Enjoy Michigans 2012 Summer Free Fishing Weekend June 9-10
By editor on Jun 4, 2012 | In News, Fishing, MI Dept of Natural Resources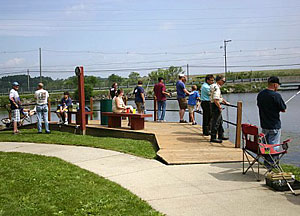 Anglers of all ages participate in the City of St Louis Michigan Joe Scholtz Annual Free Fishing Derby. Photo Credit: City of St Louis
The Michigan Department of Natural Resources reminds everyone the annual Summer Free Fishing Weekend is scheduled for Saturday and Sunday, June 9-10. On that weekend, everyone - residents and non-residents alike - can fish without a license, though all other fishing regulations still apply.
Since 1986, Michigan has annually celebrated the Summer Free Fishing Weekend as a way to promote awareness of the state's vast aquatic resources and the sheer fun of fishing. With more than 3,000 miles of Great Lakes shoreline, 36,000 miles of rivers and 11,000 inland lakes, Michigan and fishing go hand in hand.
"This summer's Free Fishing Weekend is a great way to get outdoors and experience some of the finest freshwater fishing in the world," said DNR Director Rodney Stokes. "Fishing is such an affordable activity - anyone can pursue it - so get out this June and try it yourself, for free!"
To encourage involvement in Free Fishing Weekends, organized activities are being scheduled in communities across the state. These activities are coordinated by a variety of organizations including constituent groups, schools, local and state parks, businesses and others.
There's still plenty of time for communities to plan their own Free Fishing Weekend events, or to find an activity occurring nearby. Visit www.michigan.gov/freefishing for all things related to this unique weekend, including help on event planning and promotion, a registration form for official events, and a chart identifying activity locations.
The Michigan Department of Natural Resources is committed to the conservation, protection, management, use and enjoyment of the state's natural and cultural resources for current and future generations. For more information, go to www.michigan.gov/dnr.
Some of the many Michigan Free Fishing Weekend Events
In addition to The Bass Federation of Michigan's Jr youth state championship on Pontiac Lake, there are many family and youth outdoor fishing events this weekend. Visit www.michigan.gov/freefishing for more information and events by county. Here are a few examples:
Midland County Youth Fishing Program
The second weekend of the Midland County Youth Fishing Program happens this Saturday, June 9 from 9:30am until 11:30AM at Sanford Lake Park. Admission is free but limited to first 50 youth ages 5 to 13 and their parents who preregister. Preregistration is mandatory. Visit the link above for details and to register.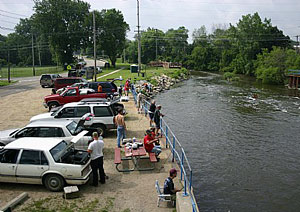 Anglers line the Pine River fishing during the City of St Louis Michigans Joe Scholtz Annual Free Fishing Derby. Photo Credit: City of St. Louis
Joe Scholtz Annual Free Fishing Derby
The City of St. Louis Michigan has had an annual Fishing Derby for the past fourteen years and it continues to be one of the biggest events. Hundreds of people and families typically visit the Pine River in St. Louis' Leppien Park to try their hand at landing the biggest fish. The derby is this Saturday, June 9, 2012. Fishing is from 9:00am to 12:00 noon. The event has been named after the driving force and past mayor of St. Louis, Joe Scholtz, who passed away last year. Visit the link above to download the 2012 registration form.
Ingham County - Meridian Township Fishing Derby
The Meridian Township Fishing Derby is also this Saturday, June 9, 2012 from 9:00am until 12:00 noon at the Central Park Pond in the Meridian Historical Village, 5151 Marsh Road, Okemos. This event will offer visitors the chance to fish for free! Prizes will be awarded for biggest fish, second biggest fish, first fish caught and most fish caught. Contact Greg Grothous, grothous@meridian.mi.us, 517-853-4616.
For additional year-round fishing opportunities, make sure you visit Project F.I.S.H. Project F.I.S.H is an educational program for youth and families sponsored locally by schools, fishing conservation organizations and others interested in fishing and our fisheries.