Huron-Clinton Metroparks Renames Metro Beach, now Lake St. Clair Metropark
By editor on Feb 24, 2012 | In News, Bass Fishing, Fishing, Public Access, Boating

From TourLakeStClair.org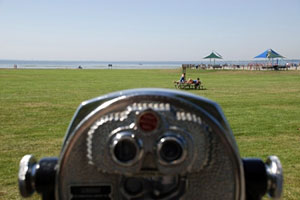 Huron-Clinton Metroparks renames Metro Beach to Lake St Clair Metropark. Photo Credit: TourLakeStClair.org
The Board of Commissioners for the Huron-Clinton Metroparks approved changing the name of Metro Beach Metropark to Lake St. Clair Metropark at its monthly Board Meeting held Thursday, December 8.
"It is a regional park with so much more than just 1,000 feet of beach along Lake St. Clair," said Anthony V. Marrocco, chairman of the Board of Commissioners. "We want the name to better reflect the variety of activities and facilities offered at the park."
Board members John P. McCulloch, representing Oakland County; Harry E. Lester, representing Wayne County; John E. La Belle, representing Livingston County; governor appointee Timothy J. McCarthy and Marrocco, representing Macomb County, unanimously passed the motion to rename the park.
The park was named St. Clair Metropolitan Beach when it opened in 1950. According to a 1953 report, it was renamed Metropolitan Beach Metropark to reflect its impact on the Metropolitan Detroit area. Over the years, 'Metropolitan' was shortened to 'Metro.'
In addition to the 1,000-foot sandy beach and a one-mile shoreline along Lake St. Clair, amenities at this 770-acre park include an Olympic-sized swimming pool with waterslides, the Squirt Zone sprayground, marinas that accommodate more than 250 boats, eight boat launches, a nature center and nature study area with trails, a paved hike/bike trail, par-3 and adventure golf courses, and picnic shelters. The park also contains 400 acres of fragile coastal wetlands, and is a top bird watching site with more than 230 bird species noted each year.
Located along the Huron and Clinton rivers, the Huron-Clinton Metroparks provide a natural oasis from urban and suburban life as well as year-round recreational activities and events. A regional park system, the Metroparks consist of 13 beautiful parks covering 25,000 acres, ten spectacular public golf courses and two marinas on Lake Erie and Lake St. Clair, respectively. The parks also offer scenic nature trails, breathtaking beaches, educational activities and exciting winter sports.
A vehicle entry permit is required to enter any Metropark and is only $25 annually for regular admission, $15 annually for seniors, or $5 daily. For general information please call 1-800-47-PARKS.