The Bassmasters TV Show Wins Fan Favorite Award
By editor on Jan 20, 2012 | In News, TV Shows

B.A.S.S. News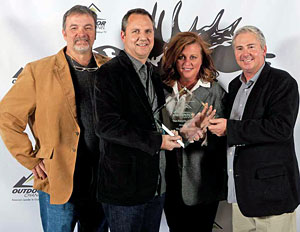 Receiving a Golden Moose Award for The Bassmasters TV show were (L) Steve Bowman, director of Web Content for JM Associates, Mike McKinnis, producer, Angie Thompson, Business Development director, B.A.S.S., and John Skrabo, B.A.S.S. sales. Photo Credit: B.A.S.S.
LAS VEGAS, Nev. — Moose and bass don't normally go together, but according to viewers of The Outdoor Channel, The Bassmasters television show is worthy of the industry's highest praise — a Golden Moose Award.
The Bassmasters, a year-long series that covers the professional Bassmaster Elite Series and Bassmaster Classic, was voted tops in the category "Fan Favorite Fishing Series." Other nominees in the category included Bill Dance Saltwater and Speargun Hunter.
"This was a huge honor for B.A.S.S. and our television production team," said Mike McKinnis, producer of the show. "There are so many people on our team that work so hard to make this happen. We basically melt down about 150 hours of videotape to create a 1-hour show, when the average television show doesn't even produce that many hours of video in a whole season. It takes teamwork and a concerted effort to pull that off as well as they do, and in some weeks, we have just a few days to do it."
McKinnis accepted the award Thursday night at the Hard Rock Café, giving specific credit to that team, Tommy Sanders, Mark Zona and the anglers on the Bassmaster Elite Series. The show is produced by JM Associates on behalf of B.A.S.S.
"It was a special night,'' McKinnis said. "It's nice to be recognized by the fans."
The Golden Moose Awards honor the on-air talent, design and graphics personnel and producers of Outdoor Channel's industry-leading programming.
"The Golden Moose Awards recognize the creative achievements of our quality outdoor programming, and the talented personalities and skilled production work that bring these shows to life," said Tom Hornish, COO at Outdoor Channel.
About B.A.S.S.
For more than 40 years, B.A.S.S. has served as the authority on bass fishing. The organization advances the sport through advocacy, outreach and an expansive tournament structure while connecting directly with the passionate community of bass anglers through its Bassmaster media vehicles.
The Bassmaster brand and its multimedia platforms are guided by a mission to serve all fishing fans. Through its industry-leading publications — Bassmaster Magazine and B.A.S.S. Times — comprehensive website Bassmaster.com, ESPN2 and Outdoor Channel television programming, Bassmaster provides rich, leading-edge content true to the lifestyle.
The Bassmaster Tournament Trail includes the Bassmaster Elite Series, Bass Pro Shops Bassmaster Open Series, B.A.S.S. Federation Nation events presented by Yamaha and Skeeter Boats and the ultimate celebration of competitive fishing, the Bassmaster Classic.
B.A.S.S. offers an array of services to its more than 500,000 members and remains focused on issues related to conservation and water access. The organization is headquartered in Birmingham, Ala.