Two cents could equal $500!
By editor on Jul 24, 2011 | In News, Sponsors, Bass Fishing, Fishing

NBAA News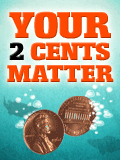 Calling all anglers: If you want to make $500 CASH in 1 minute or less, listen up! We want you to complete a short survey on the NBAA and WFN: World Fishing Network. This survey is exclusive to the NBAA, which means a person filling out this survey following this link is guaranteed to win the $500 CASH!
If you need a little more convincing, ask yourself if you like to fish. If you answered 'yes', then you'll want to watch WFN: the only 24/7 fishing TV channel. WFN is the only television channel dedicated entirely to fishing programming. Coverage includes instruction, tips, tournaments, food, boating, travel, outdoor lifestyle and everything else related to fishing. With over 35 exclusive series, WFN features the top fishing shows you can't watch anywhere else.
What are you waiting for? Take the survey. Who knows. You may just win $500 cash from WFN! For more information about WFN go to www.worldfishingnetwork.com.