B.A.S.S. LLC to receive American Outdoor Organization of the Year award
By editor on Jul 8, 2011 | In News, Bass Fishing, Fishing

B.A.S.S. News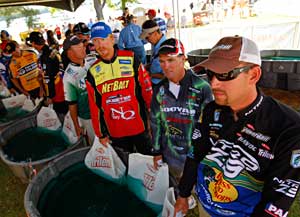 2011 Bassmaster Elite Series weigh in tent with tournament anglers waiting in line with their bass. Photo Credit: B.A.S.S.
SPRINGVILLE, Tenn., & CELEBRATION, Fla. — Garry Mason, founder and CEO of the "Legends of the Outdoors" National Hall of Fame, announced that the B.A.S.S. organization would be the 2011 recipient of the "Legends of the Outdoors" National Hall of Fame's American Outdoor Organization of the Year award.
"It's an honor for 'Legends of the Outdoors' National Hall of Fame to salute the achievements of such a great organization as B.A.S.S. for its pioneering accomplishment of being the world's largest fishing organization as well as its unwavering commitment to improving the fishing environment through natural resource conservation efforts," said Mason.
The presentation of the 2011 American Outdoor Organization of the Year award will take place during the 10th Anniversary "Legends of the Outdoors" National Hall of Fame banquet and induction ceremony to be held in conjunction with the Bass Pro Shops Land and Wildlife Conservation Expo in Nashville, Tenn., at the beautiful Gaylord Opryland Resort and Convention Center on Aug. 14. The doors for this year's event will open at 8 a.m. (CT), enabling guests to socialize with honorees and other "Legends of the Outdoors" members, and the banquet and awards ceremony will begin at 9 a.m. (CT).
Among the "Legends of the Outdoors" National Hall of Fame members scheduled to be on hand at this year's event are Peggy Vallery, Tommy Akin, Jerry Martin, Soc Clay, Roland Martin, Gary Yamamoto, Harold Knight, Brenda Valentine, Alex Rutledge, Jack Oliver, Ray Scott, Ralph McDonald, Emily Shaffer and Jimmy Holt. In addition to B.A.S.S., numerous others will be present to help welcome and induct this year's class of inductees that currently consists of Steve Coleman, Ronnie Capps, Roger Raglin, Larry Shockey, Mark Sosin and Joella Bates.
"It's a privilege for B.A.S.S. to be recognized by 'Legends of the Outdoors' this year," said Jerry McKinnis, one of three owners of B.A.S.S. "B.A.S.S. has been and continues to be a positive, driving force behind this industry, promoting its anglers, conservation issues, education and the competitive aspect of bass fishing."
Open to the public, the event offers individuals the opportunity to personally meet many of the outdoor sportsmen and sportswomen, in both hunting and fishing, who have helped set standards and guidelines for the rest of the outdoor world to follow.
Ticket and sponsorship information for this prestigious outdoor event may be obtained by contacting "Legends of the Outdoors" through the website at www.legendsoftheoutdoors.com, or by calling 731-593-0171 or 731-693-7770.
About B.A.S.S.
For more than 40 years, B.A.S.S. has served as the authority on bass fishing. The organization advances the sport through advocacy, outreach and an expansive tournament structure while connecting directly with the passionate community of bass anglers through its Bassmaster media vehicles.
The Bassmaster brand and its multimedia platforms are guided by a mission to serve all fishing fans. Through its industry-leading publications — Bassmaster Magazine and B.A.S.S. Times — comprehensive website Bassmaster.com, ESPN2 and Outdoor Channel television programming, Bassmaster provides rich, leading-edge content true to the lifestyle.
The Bassmaster Tournament Trail includes the Bassmaster Elite Series, Bass Pro Shops Bassmaster Open Series, B.A.S.S. Federation Nation events presented by Yamaha and Skeeter Boats and the ultimate celebration of competitive fishing, the Bassmaster Classic.
B.A.S.S. offers an array of services to its more than 500,000 members and remains focused on issues related to conservation and water access. The organization is headquartered in Celebration, Fla.