Forty year anniversary of the Ranger Boats Factory Fire
By editor on May 5, 2011 | In News, Products, Sponsors

Ranger News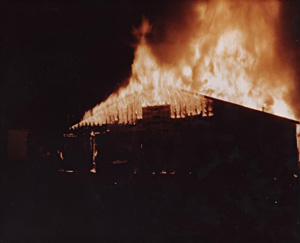 On May 4, 1971 a major fire destroyed most of the Ranger Boats factory complex. Photo Credit: Ranger Boats
Greetings from Ranger. This week marks an important anniversary in the history of our company. Forty years ago, on the evening of May 4, 1971, our founders Forrest and Nina Wood had just sat down for dinner when sirens began to sound in the distance. The Ranger Boat Company was just three years old and the business was on fire - literally.
The flames spread quickly and destroyed almost everything but the determination of Forrest, Nina and their family and friends. Sixty boat orders were salvaged from an army surplus desk and by the next day, the charred remains were being cleaned up. In an incredible testament to the drive and commitment that continues to permeate the culture of boat builders in Flippin, Arkansas today; Ranger was back in production forty days later.
Whether it was in spite of or even because of such a milestone event, the Ranger legacy for intense commitment to the job at hand continues to grow. We're fortunate to have so many employees - close friends really - that have such long tenures here. It's something very unique - having such a large number of folks with 15, 20, 25, 30 and 35 years of experience hand-crafting Ranger boats. There are even members of our team here that were personally involved in the clean up and re-birth of the company 40 years ago. That kind of experience makes a huge difference almost everywhere you look.
Today, the brand consistently sets the pace by remaining true to its roots; real people who love to fish and have an honest desire to build the best fishing and family boats on the planet.
It's a group that also values sacrifice and honor with great regard, so it is fitting that Operation Troop Salute was recently introduced as a way of saying thank-you to the men and women of our nation's armed forces. The retail incentive program was designed to reward members of the United States Armed Forces who enjoy the fishing and boating lifestyle. Without their efforts on behalf of so many, we wouldn't be able to enjoy the same freedoms we do each and every day. For more information on the program, please check out Operation Troop Salue.
As always, we love hearing from our Ranger family - so feel free to send us an email (info@rangerboats.com) or give us a call at 800-373-2628.
Until next time, Good Fishing - and God Bless America,
Randy Hopper
President
Ranger Boats