NBAA Day at D&R Sports with Special Guest Mark Zona!
By editor on Feb 28, 2011 | In News, Bass Fishing, Fishing

NBAA News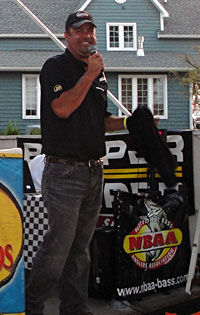 Saturday, March 5th is the date for this year's NBAA Day at D&R Sports Center. Special guest and seminar speaker Mark Zona will be on hand for this annual event. Mark will be holding a seminar at 11:00 am on Kentucky/Barkley Lakes, the location of NBAA's upcoming Championship Week 2011. Besides being a great entertainer, Mark will let you in on secret spots and hot techniques that will help you score on this famous body of water.
Plus, NBAA will be on hand going over exciting details for the upcoming season and signing up new members. When you sign up for your NBAA membership at D&R Sports you'll not only receive $5 off your membership, you'll also get a free t-shirt. NBAA will also be holding special "FREE" raffle drawings throughout the day. So come out and join the fun with Mark Zona and win some great prizes.
You can also catch Mark Zona on his new fishing show "Zona's Awesome Fishing Show." Mark's show airs on the Outdoor Channel on Fridays at 8:00 pm or Saturday's at 9:00 am eastern time. You can also go to www.markzona.com for more information about Mark and his show.
Details for the NBAA Day at D&R Sports:
Event – NBAA Day at D&R Sports
Date – Saturday, March 5th
Time – 9:00 am – 2:00 pm
Seminar – 11:00 am Mark Zona on Kentucky-Barkley Lakes
GreatLakesBass.com will be there too for NBAA D&R Day so make sure you stop by the table and say hello.
D&R Sports Center is located on the West side of Kalamazoo at:
8178 West Main Street (M-43)
Kalamazoo, Michigan
269-372-2277