Barone is back
By editor on Jan 18, 2011 | In News, Bass Fishing, Fishing

B.A.S.S. News
Award-winning writer Don Barone will be providing his unique perspective on the Bassmaster Elite Series again in 2011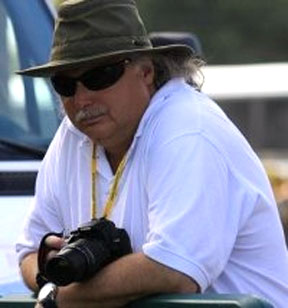 Outdoor writer Don Barone is back writing for Wired2fish.com and Bassmaster.com along the BASS Elite tour. Photo Credit: B.A.S.S.
B.A.S.S. LLC and Wired2Fish.com have joined forces to bring Barone's take on the trail as well as on fishing in general to readers of both Bassmaster.com and Wired2Fish.com.
"Don Barone writes about the anglers' hearts, about why we fish," said Jerry McKinnis, a B.A.S.S. owner.
Said Terry Brown, Wired2Fish president: "Don is the 'Wizard of Word.' He can talk about fishing without mentioning a rod or reel, and pull on the reader's heartstrings."
Barone's first piece of 2011 is scheduled to be published Tuesday, Jan. 11, on Bassmaster.com.
"It's about … why B.A.S.S. means so much to me," he said. "B.A.S.S. is the place to be, so it's what I called 'being home,' and that's what the column is about."
He said he will continue in 2011 to travel with the Elite Series field. As his itinerary allows, he'll also stop at Bass Pro Shops Bassmaster Open events.
At Wired2Fish, his work will appear in a special section named "DB's The Quest," he said.
"If I'm out and see somebody fishing, I'll stop and talk to them and try to find out why they fish, to discover the spiritual aspect of why people fish," he said.
One of Barone's first pieces about bass fishing was July 2007's "Diary of a Bassmaster Virgin." With the fresh perspective he had — and still has — Barone began to educate the general public about fishing as a pro sport.
In that 2007 piece, he wrote, "If you've been sitting back thinking that catching bass for cash is just a bunch of Joe-Bob's with a six-pack and ham sandwich lazily floating around in a boat, waiting for some dumb smallmouth to come by and hit the cheese whiz they're using for bait … you'd be WRONG."
Thus, with a solid claim to being an "outdoor writer virgin," Barone glued a hula-girl mascot to the dashboard of his van, uploaded a very long iPod playlist and struck out from his Connecticut home for Greenville, S.C., and the 2008 Bassmaster Classic. The blogs he wrote there for Bassmaster.com established him firmly in anglers' hearts, and they in his.
"In the column that's going up (Tuesday), I talked about how I've covered every major league sport that everybody in this country's ever watched — NFL, MLB, NHL, NBA, all of it — but none of those sports are as special to me as this sport," Barone said. "I think bass fishing is the last treasure hunt in America. That's why I love the people who do this sport."