Mustad® Introduces New KVD Elite Treble Hook
By editor on Mar 25, 2010 | In News, Products, Fishing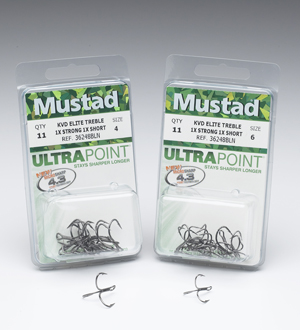 Mustad®, the world's best-selling fish hook brand, has introduced the new Ultra Point® KVD Elite Triple Grip® Treble, a replacement treble hook designed by the world's #1 ranked angler and Mustad pro-staffer, Kevin VanDam.
Design and development was driven by Kevin's request to create a treble hook that combines the holding features of Triple Grip® trebles with the sharpness and strength of the Elite Series Trebles. "It's the treble hook design I wish I'd had sooner, because I know it would have made the difference in several tournament finishes," noted VanDam. "It's my must-have for improving hook-ups on crank baits and stick baits."
Ultra Point® Elite Triple Grip® Trebles (Ref No. TG76BLN) feature a special wide bend and power angle point that makes it virtually impossible for fish to throw the hook; a two extra short shank to avoid hook tangling; one extra strong wire for added strength; and a sleek, smooth black nickel finish to enhance penetration. They are available in sizes 3/0 through 6.
Like all Ultra Point® hooks, they feature Mustad's 4.3 Micro Sharp Point Technology for a sleek, slimmer incredibly sharp point. This unique, two-stage opti-angle point has less metal removed in the sharpening process than with traditional methods, providing all the benefits of a true needle point with incredible strength and durability. Chemically sharpened and Nor-Tempered to be up to 30% stronger than conventional hooks, Ultra Point® is a very sharp, very strong needle point that delivers quick, easy penetrations…and longer performance.
For more information on Mustad's newly expanded lineup of hooks, tools, swivels and attractants, call (315) 253 2793; write O. Mustad & Son (USA) Inc., P.O. Box 838, Auburn, NY 13021; or visit www.mustad.no.