Largemouth bass caught in Japan ties IGFA All-Tackle World Record
By editor on Mar 2, 2010 | In News, Bass Fishing

Freshwater fishing's "Holy Grail" now has dual holders; 22 lb 4 oz bass caught by Japan's Manabu Kurita matches IGFA record held for 77 years by Georgia's George Perry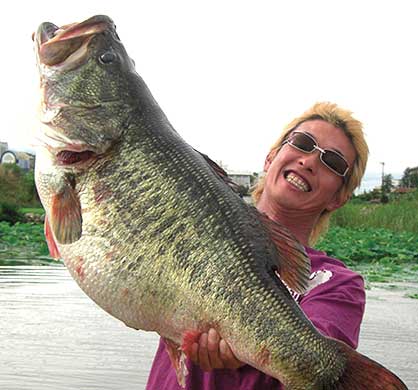 DANIA BEACH, Fla. USA, (January 8, 2010) --- After nearly six
months of waiting, Japan's Manabu Kurita is taking his place along side Georgia, USA angler George Perry in the International Game Fish Association's (IGFA) World Record Games Fishes book as dual holders of the All-Tackle record for largemouth bass each weighing 22 lb 4 oz and caught 77 years apart.
Today the IGFA approved Kurita's application for the fish caught from Japan's largest lake on July 2, 2009. The 70-year old non-profit fisheries conservation, education and record-keeping body, received Kurita's application and documentation on Sept. 19, 2009. The largemouth bass (Micropterus salmoides), was caught from Lake Biwa which is an ancient reservoir northeast of Kyoto.
Kurita, 32, of Aichi, Japan, was fishing Biwa that July day using a Deps Sidewinder rod and a Shimano Antares DC7LV reel loaded with 25 lb Toray line when he pitched his bait, a live bluegill, next to a bridge piling. It was Kurita's first cast to the piling where he had seen a big bass swimming. He only twitched the bait a couple of times before he got bit. After a short, three minute fight he had the fish in the boat.
Kurita was quoted as saying "I knew it was big, but I didn't know it was that big."
But big it was. Using certified scales, his fish weighed in at 10.12 kg or 22 lb 4 oz. When measured, the fish had a fork length of 27.2 inches and a girth of 26.7 inches. The IGFA only has line classes up to 20 lb for largemouth bass, so Kurita had no chance at a line class record as well.
IGFA rules for fish caught outside the U.S. allows anglers 90 days to submit their applications from the date of their catch. The documentation was received through the IGFA's sister association the Japan Game Fish Association (JGFA). IGFA conservation director Jason Schratwieser said Kurita's application was meticulously documented with the necessary photos and video.
Kurita's fish ties the current record held for over 77 years by Perry who caught his bass on Georgia's Montgomery Lake, June 2, 1932, near Jacksonville, Georgia. That 22 lb 4 oz behemoth won Field and Stream Magazine's big fish contest and 46 years later, when the IGFA took over freshwater records from Field and Stream, it became the All-Tackle record now one of over 1,100 fresh and saltwater species the IGFA monitors.
IGFA All-Tackle records are now free for viewing by the public at igfa.org. Kurita's name is now on the IGFA Web site with that of Perry's and will appear in the 2011 edition of the World Record Games Fishes book…. unless that record is broken this year.
The IGFA announced the decision at its headquarters with a live video feed carried on Bassmaster.com, one of the most popular fishing Web sites in the world and the official site of the Bass Anglers Sportsman Society (BASS).