Kevin VanDam Joins Humminbird Pro Team
By editor on Sep 30, 2009 | In News, Products

2009 B.A.S.S. Angler of the Year Looks to Keep Winning Edge with Humminbird Side Imaging(r)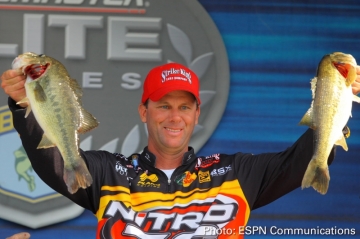 EUFAULA, Ala. (September 30, 2009) - The most successful professional bass fisherman in history, and the innovation leader in the marine electronics industry, have joined forces in a quest to capture more tournament victories. Fresh off of winning his second consecutive B.A.S.S. Angler of the Year (AOY) title, Kevin VanDam is now an official member of the Humminbird(r) Pro Team and will compete in tournaments using the very latest in marine electronics technology.
"Electronics are a key tool for me, and although I haven't had an electronics sponsor, I've seen the advantages that Side Imaging technology provides and felt it was important to have every edge I can get, that's why I joined the Humminbird team," said VanDam. "Fishing the B.A.S.S. trail, I am well aware of Humminbird's reputation for providing reliable, high quality products, along with great service, and that is very important to me."
His most recent victory now gives the Kalamazoo, Mich., resident an incredible total of five AOY titles. He also took home the FLW Angler of the Year title in 2001. In addition, VanDam also has won two prestigious Bassmaster Classic tournaments. He consistently has been ranked the number one professional bass angler in the world by the popular Web site BassFan.com.
"We are extremely happy to have the most recognized and respected professional on the bass tournament circuit today as part of our team," said Humminbird Business Director Jeff Davison. "Kevin VanDam's solid character, achievements and ability to promote the sport of bass fishing align perfectly with the core values of our company. We're confident that the addition of Side Imaging, Down Imaging, and SwitchFire sonar to his boat will allow him to demonstrate the advantages of this technology in competitive bass fishing."
Pages: 1· 2