VanDam, Zona Headline 2017 Ultimate Fishing Show
By editor on Dec 16, 2016 | In Showspan, Ultimate Fishing Show
Fishing experts including VanDam, Zona to appear at Michigan's biggest fishing show, January 12-15 in Novi
The Ultimate Fishing Show-Detroit is all about fishing tackle, boats, trips and information.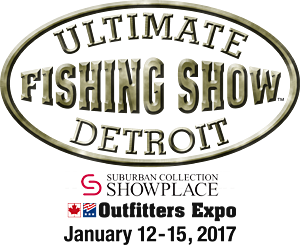 The 2017 Ultimate Fishing Show Detroit is January 12 - 15 at the Suburban Collection Showplace in Novi - the biggest pure fishing show in Michigan!
Novi — Want to learn how to put more walleyes in your boat? Catch bigger bass? Fish from a kayak? Catch more fish through the ice? These topics and many others will be thoroughly discussed by national, state and local fishing experts when the Ultimate Fishing Show-Detroit drops anchor in Metro Detroit next month. The Ultimate Fishing Show–Detroit returns to Suburban Collection Showplace in Novi, January 12-15. This show offers something for everyone interested in fishing, from beginners to tournament pros.
"This is Michigan's largest pure fishing show and it offers something for everyone from experienced veterans to beginner anglers," says Show Manager Ben Nielsen. "We've booked hundreds of exhibitors and they're bringing the latest in Tackle, Gear, Fishing Boats and Accessories to town. There also will be Factory-Direct Exhibits staffed with Designers, Technicians and other Manufacturer Experts. Specialty Bait Vendors will have tackle available only at this show."
The Ultimate Fishing Show–Detroit is famous for its extensive seminar line-up presenting seminars every hour on five seminar stages including Lake Ultimate and the Hawg Trough. Every Michigan game fish species will be covered – free with show admission.
Headlining this year's all-star seminar lineup are Michigan natives and national bass fishing personalities Kevin VanDam and Mark Zona. VanDam, four-time Bassmaster Classic champion and seven-time B.A.S.S. Angler of the Year, will make a special appearance on Sunday only. Zona, host of Zona's Awesome Fishing Show and a regular on several ESPN Outdoors shows including co-hosting The Bassmaster Elite Series Show, will make a special appearance on Thursday only. Joining these two celebrities in the seminar lineup are nationally-acclaimed walleye experts Mark Martin, Mark Romanack and Marianne Huskey, along with many other national and local fishing experts.
Some of the other highlights of the show include an Ice Fishing Extravaganza, Shanty Truckload Sale, Step-up Mini Clinics, Ultimate Bass, Walleye and Salmon Clinics, Fish Cleaning Demonstrations, a Virtual Fishing Simulator, Fly Casting and Fly Tying Lessons, Trout Pond, Shore Lunch Fish Fry and much more. The Ultimate Bass Clinic is Saturday, January 14, 2:30pm-4:30pm - sign up at the Xtreme Bass Tackle booth. Visit www.facebook.com/groups/ultimatebassclinic for more information!
Want to attend the show for free? On Thursday, January 12, admission is free for patrons who bring six cans/boxes or four pounds of non-perishable food items to donate to the annual Michigan Sportsmen Against Hunger food drive. The food will be collected by volunteers from local conservation organizations and donated to the Red Cross and area food banks.
"Michigan anglers are very generous and have donated thousands of pounds of food in the past. We expect that generosity to carry over to the 2017 Ultimate Fishing Show-Detroit," Nielsen said. "Our show patrons recognize the fact that there are people right here in our community who are less fortunate than others, and that they can make a difference in those people's lives by making a small donation at the show."
Admission is $10 for adults and $4 for children 6 to 14. There is no charge for children 5 and under. Parking is $5 for on-site parking.
New show hours are: Thursday, 1 to 9; Friday, 11 to 9; Saturday, 10 to 8; Sunday, 10 to 5. Admission: $10 adults, $4 children 6 to 14, free for children 5 and under. Information: www.UltimateFishingShow.com or 800-328-6550.
For more information, go to www.UltimateFishingShow.com or call 800-328-6550. You can also follow late-breaking news and developments on Facebook at ULTIMATESPORTSHOWTOUR.
The Suburban Collection Showplace, a state-of-the-art Exposition, Convention and Conference Center in Novi, Michigan, is owned and managed by Blair M. Bowman. The Suburban Collection Showplace offers approximately 320,000 square feet of space, including 30,000 square feet of meeting space. Other attractive amenities include a full-service kitchen capable of serving a sit down meal to 3,500 people, formal banquet halls, full-service concession areas, two major atrium style entrances with 25,000 square feet of lobby space for pre-function and registration activities. For more information, visit www.SuburbanCollectionShowplace.com.