2015 Outdoorama has Plenty to Offer
By editor on Jan 29, 2015 | In Showspan, Outdoorama
Mike Schultz
Owner of Schultz Outfitters, a fly fishing guide service specializing in South Eastern Michigan warm-water angling, instruction and destination travel. Over the past few steelhead seasons Mike has turned his attention to the Ohio Tributaries of Steelhead Alley. Mike guides these world class tributaries throughout the fall and spring runs through his partnership with Greg Senyo's Steelhead Alley Outfitters.
Born and raised in the great State of Michigan, Mike has enjoyed the outdoors his entire life. He developed an interest in fly-fishing during his teenage years. After graduating with a business degree from Eastern Michigan University, he started guiding and working in the fly-fishing industry full time. His angling travels have taken him from Alaska to Patagonia and many places in between. Over the past 5 years Mike has expanded his fly-fishing travels to salt water destinations, making multiple trips to the Bahamas, Florida Keys, and Mexico in search of Bonefish, Tarpon, Roosterfish and the elusive Permit. Logging 200+ days a year on the water annually, Mike has developed a vast knowledge of Midwestern waters and beyond.
Mike is a member of the Scientific Anglers, Rainy's Fly Company, Patagonia and Ross Reels National Pro Staffs'. In 2010 he became a member of the Simms Fishing Products Ambassador program.
Capt. Mike Pittiglio
Capt. Mike is a full time Muskie guide on the world renowned Lake St. Clair. With over 20 years of muskie fishing under his belt, he spends approximately 120 days per season on the lake fishing for muskies. His finest accomplishments were a 55 1/4?, which weighed 41.45 lbs, three muskies over 56? and 39 muskies boated in one day. Captain Mike will hold nothing back during his seminars. All the hottest lures, locations and set-ups will be covered. Capt. Mike's seminars will cover the whole muskie season from the first Saturday of June through the middle of December.
Capt. Kevin Backus
Kevin began fishing on the waters of Lake St. Clair at an early age. His grandfather, the legendary muskie fisherman Homer LeBlanc, passed on the knowledge and skills required to be a legendary fisherman. Kevin has been around muskies and Lake St. Clair all his life, and now wants to pass this knowledge and love of fishing on to you. Expect to be entertained by the timeless tales of Homer LeBlanc, told by Kevin himself. Learning Homer's proven and timeless tips and strategies of luring muskies into striking.
Seth McCullough
Seth is the owner and founder of Bully's Wild Turkey Calls. He is a contest caller, seminar speaker and avid turkey hunter. His presentation on turkey hunting and the life cycle of the wild turkey is informative and fun. Both novice and experienced hunters will enjoy Seth's seminars.
Jason Herbert
Outdoor writer, speaker, and Bear Archery Pro-staffer, Jason Herbert has enjoyed great success pursuing his passions in the outdoor industry. Jason is a nationally published writer with works in Outdoor Life, North American Whitetail, Deer and Deer Hunting, Petersen's Bowhunting, and Bow and Arrow Hunting. He has also worked with several smaller, regional publications. Making his living by being a public school teacher, Jason has carved out his niche as a "regular guy" who lives and hunts in the real world. Jason's advice and tactics are practical and apply to almost everyone.
Tim Andrus
Hunting whitetails is Tim's true passion and he will travel anywhere to pursue them. To date he has had the opportunity to hunt them in 20 states and 5 Canadian provinces. What started as a hobby has turned into a part time job! Tim was placed on Realtree's Pro Staff in 1996 and hasn't looked back since. He has turned his passion into a profession and his pro staff positions have allowed him to grow within the outdoor industry, exceeding his greatest expectations with companies such as Scent Lok, Ameristep Tree Stands and Muzzy Broadhead's. Tim has filmed many hunts and has had many appearances on various TV shows including Realtree Road Trips, Deer City USA, Outdoor America, Gene Pearcy's On The Right Track, and currently hosts Rush Outdoors TV.
Ed Spinnazola
Food plot expert and author of Ultimate Deer Food Plots, Ed will be on hand daily to discuss all aspects of growing food plots for deer. Ed is passionate about educating others and helping them create a unique food plot on their own. With thousands of hours of experience Spinazzola has learned what to do and what not to do to guarantee year-round success. Ed will discuss the entire process from start to finish.
Dave Rose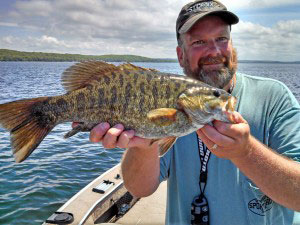 What started out as an infatuation with catching fish as a child has turned out to be a career for Traverse City, MI resident David Rose.
What started out as an infatuation with catching fish as a child has turned out to be a career for Traverse City, MI resident David Rose. He has been writing books, articles, producing photos for publication and giving seminars for nearly two decades now, and enjoys teaching his passion for catching fish to his clients who guide with him on the inland lakes of Northwestern Lower Michigan. As a writer and photographer, Rose has been able to travel the country and Canada for a multitude of different fish species and loves sharing his experiences with all.
Ramsey Dowgiallo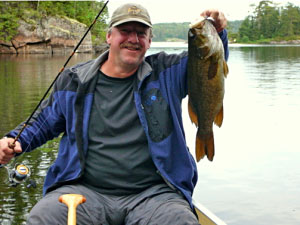 Ramsey Dowgiallo has been traveling through the Boundary Waters Canoe Area for almost twenty years.
Ramsey has been traveling through the Boundary Waters Canoe Area for almost twenty years. His business manifested by his passion for the BWCA and is driven by his desire to share the experience with others. Ramsey grew up in Detroit, Michigan fishing with his father and grandfather since he was 5 years old. He has won Master Angler Awards in 3 States. When in the wilderness, Ramsey is in his element. He is a natural teacher and loves to share his knowledge with others.
Theresa Maybrier (Team Morel)
Team Morel LLC was created to promote everything about and for morel mushrooms. They are in the field picking morels twelve to fifteen weeks out of the year, using this experience to help bring you better morel finding information. They have hunted eighteen states and all the southern provinces of Canada.
The rest of the time they are creating new products, writing new material, testing new ideas, and studying morels. Theresa has been an outfitter since 1999, taking nearly a thousand people in the field and teaching them how to mushroom hunt. Thousands more have enthusiastically attended the many seminars Team Morel has given throughout the Midwest.
Mark Romanack
Fishing 411 television host, seminar leader, walleye fishing expert and the author of the acclaimed Precision Trolling depth guides will be on-hand throughout the Show. The Great Lakes are home to a host of outstanding walleye fishing destinations. Saginaw Bay, Lake Erie, Little Bay de Noc and other big water fisheries harbor amazing numbers of walleye. Catching the fish requires some specialized trolling presentations inclucing the use of diving planers, crank baits, spoons and spinners. This informative multi-media seminar is a must-see presentation for anyone who wants to learn more about targeting walleye in open water.
Pages: 1· 2