Q&A with KVD Back at the 2013 Ultimate Fishing Show Detroit
By editor on Jan 7, 2013 | In Showspan, Ultimate Fishing Show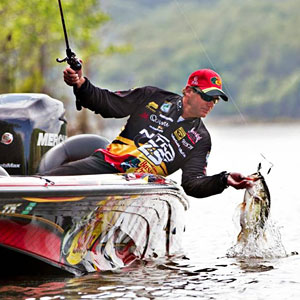 Q & A with Kevin VanDam is back at the 2013 Ultimate Fishing Show Detroit on Thursday January 10.
Photo Credit: Showspan
Due to the overwhelming response, KVD is back. Yes, Kevin VanDam, the greatest angler in the world, is back for another exclusive closed door angler's workshop. You've been to his seminars, seen him on television and followed his tournament career! Now is your chance to ask Kevin VanDam that question you've always wondered about - a special technique, a hot tip or his ideas on how to further your fishing career!
The Ultimate Fishing Show – Detroit has made special arrangements to hold a private seminar for show guests on Thursday, January 10th at the Suburban Collection Showplace in Novi. This event, hosted by Stopper Lures and NBAA, isn't a typical seminar. KVD will be answering your questions, submitted via the attached form. You get to choose what Kevin talks about, but you must register in advance.
Please print and fill out the attached form. Take it to the Stopper/NBAA booth by the Hawg Trough to pick up your FREE ticket. The seminar is FREE to guests of the Ultimate Fishing Show. Tickets to the Ultimate Fishing Show can be purchased online at Ultimate Fishing Show Detroit, or purchased the day of the event at the Suburban Collection Showplace box office.
In addition to the Q&A, there will be free prize drawings for all attendees. Seating is limited. For more information or directions to the Ultimate Fishing Show Detroit visit them on line at Ultimate Fishing Show Detroit!
Details for the exclusive Kevin VanDam Seminar:
Date – Thursday, January 10th, 2013
Cost - FREE, with paid admission - reservations only
Time – 6:00 pm
Tickets – You will need to pick up your Kevin VanDam seminar ticket at the Stopper Lure/NBAA booth by 5:00 pm on Thursday, January 10th. Failure to pick up your ticket by 5:00 pm may result in the loss of your seat.
Spouse and children are valid under one ticket.
Questions - Call 269-838-9482
Click link to open (Adobe PDF) required registration document. Print it, fill it out and take it to the Stopper Lures/NBAA booth by 5pm Thursday, January 10, 2013.
Q&A with Kevin VanDam registration form for the 2013 Ultimate Fishing Show Detroit