Every high performance bass rig needs a matching outboard. I my Yamaha 225 HP V MAX HPDI outboard that has powered my boat to the hot spots and everywhere in between flawlessly since the 2004 season. When Yamaha says 'turn the key reliability' they mean it! Over 130 hours so far with no problems at all!!
It's loaded with great standard features that include many innovations – the kinds of special touches any bass angler or boater expects from a major investment that is critical to our enjoyment of the outdoors.
Some of the great features of the latest Series 2 include:

ENGINE SENSOR SYSTEM – Sixth Sense
Six individual sensors constantly provide vital atmospheric and engine conditions to the Engine Control Mode (ECM), which instantly makes the precise adjustments for optimum performance and efficiency.
FORWARD-MOUNT WATER INLETS
Water intakes are now front-mounted and lowered on the big Sixes for increased cooling efficiency, enhancing durability for today's wide array of bass, bay, and flats boat setups. The VZ300B models also feature additional, independent side-mounted water inlets.
SIX INDEPENDENT AIR INTAKES
Six individual throttle intakes feed six individual cylinders, allowing the precise amount of air to enter each cylinder for any given running condition. Combined with the equally precise amount of fuel provided by the High Pressure Direct Injection system, this configuration maximizes performance while achieving outstanding fuel efficiency.
UNIQUE SHAPED SKEG DESIGN
The unique curved design helps reduce steering torque, enabling the lower unit to track straighter during acceleration, top end speed, and decelaration conditions. Straight tracking reduces drag and improves performance, while reducing operator fatique. The design was specifically engineered for high performance bass boat hulls.
REDESIGNED FORGED PISTONS
Stronger is Better
The shape of each forged piston has been redesigned to optimize its contact with the cylinder sleeve for increased durability. Forged means that the aluminum alloy is compressed in molds under extreme pressure, making them much more dense than cast aluminum pistons. Their higher tensile strength increases resistance to fatigue, high temperatures, and wear.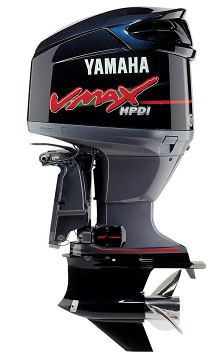 HIGH-OUTPUT 50-AMP ALTERNATOR
With 37 amps at 1,000 rpm and a full 50 amps from 3500 to 6000 rpm, V MAX® Series 2 engines offer the kind of charging power needed to help operate today's wide array of onboard electronic devices.
LARGE WATER SEPARATOR WITH WATER SENSOR – Keep It Clean
All V MAX® Series 2 engines feature a large, on-engine water separating fuel filter with a water sensor. This sensor provides both visual and audible warnings should water be detected in the fuel. Used in conjunction with Yamaha's 10-Micron Water Separating Fuel Filter, it helps separate water and contaminants from the fuel before they can reach the engine's other filters and fuel injectors.
Yamaha has an extensive and informative website with tons of great information. I really like the Pro Bass Angler section containing video and audio tips. I also visit the News page with up-to-date fishing and tournament news.
Yamaha makes awesome products with great people behind them. I love my outboard and unlike the other two brands that 'came off' my transom at unexpected times, I plan on keeping this one! I'm extremely happy that one of my friends David Simmons, winner of the first BassFan.com 6th Man award in 2002 when he was with Yamaha, helped me into the Yamaha family.
Yamaha has taken multiple JD Power & Associates Customer Satisfaction awards. With award-winning products, high performance and innovation, Yamaha should be your power of choice for a lifetime. It is mine!