With the Great Lakes ever more popular for bass anglers thanks to some of the best bass fishing ever, a popular topic for anglers just venturing out and a good refresher for those already with experience, is advice on how to safely handle all that big water.
Despite the lure of fantastic fishing, the Great Lakes are no place to venture onto unprepared. They can be dangerous to careless anglers, but the prepared and cautious angler can enjoy some of the best smallmouth fishing in particular the world has to offer.
Here's some great advice for any Great Lakes angler to read from three big water veterans. They should make your fishing trips safer and memorable for all the right reasons.
Veteran touring professional angler Kim Stricker, in his 22nd season on national tours, has learned a few things about big water. Hailing from Howell Michigan, Kim has extensive Great Lakes experience including a win in the first BASS event on his home waters of Lake St. Clair. Along with all the other big water he fishes around the country on tour, he's well qualified to say a thing or two about the subject.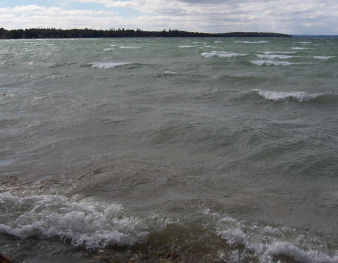 Getting to the fish is critical when competing on the national circuits, so Kim starts with a quality bass boat. "We're fishing more big water and making longer runs, which played a big part in my choosing the Ranger 521 – a good blend of big boat to handle big water while still allowing me to work my way between docks and back into the timber on the many reservoirs we visit," says Kim. "I love my 521."
Fishing the Great Lakes and other big water will inevitably lead to a rough water situation. These experts say respect for the water and preparation will help make you safer while fishing and boating the big water, especially if things do turn nasty.
Safety is a key to success on big water. "I carry a cell phone and a hand-held VHF radio (in case of no cellular signal). I also have a cigarette plug adapter cord for the radio so dead batteries don't stop me," he adds. "Additionally, I always wear my life vest when the big motor is running, tournament or not. During the cold water periods, I keep the life vest on even when fishing if I'm by myself."
Longtime Michigan federation member and 2002 Classic Champion Mark Modrak agrees. "In the spring, I wear the life jacket while fishing alone," he says. "Sixty percent of male drowning deaths occur because they fall out of the boat without their life jacket on." Mark always wears his life jacket and kill switch when driving the big motor.
Mark also seconds the need for a cell phone and hand-held VHF radio. He prefers the portable radio because he can take it with him in other angler's boats. In his own boat, he carries dry clothes and a towel in large sturdy plastic baggies in case he gets wet.
"The most important thing to me is believing the equipment I use is safe since I plan on fishing the Great Lakes a lot. That's my biggest factor in deciding what boat to buy. I don't necessarily buy the biggest bass boat, but one that fits my driving style," states Mark. "I also run with a Hot Foot foot throttle with a trim switch on the steering wheel so I can keep both hands on the wheel. If you go out of the boat, the Hot Foot spring will bring the motor back to idle in case the kill switch fails."
As far as running the boat in big water, Mark has a great confidence in his 521 Ranger Boat, but says, "it depends on the type of tournament. If a lot is on the line, then I try to manage the waves. I may find somewhere else to fish if my spot requires I run with a following sea that is cresting. Although I may try tacking the waves and taking my time if it will get me there."
Tacking involves running the waves at an angle. You tack left for a while, then cut back and tack right for a while. You end up running a long zigzag pattern instead of running directly into or with big waves.
Tournament veteran and Lake Erie phenom Steve Clapper adds, "Take your time and keep your nose up. You'll bust up something if you hurry. You don't want to beat your equipment to death."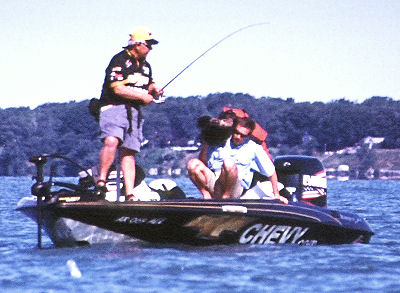 Steve puts a lot of time into preparing his big Ranger 522 for running the 'inland sea' he spends so much time on. "When I know it's going to be rough, I'll put three separate straps on my trolling motor along with the bounce buster," he says. "You've definitely got to have a boat and equipment that holds together." Clapper also believes that his bigger 250 horsepower motor helps power his boat through the big stuff and balance out his boat better.
Steve Clapper, 2007 FLW Chevy Open Lake Erie champion, is a recognized expert on safe boating and fishing large lakes. Clapper is a long time trendsetter in safety and open water strategy.
Clapper carries all the Coast Guard required safety gear and includes a GPS and compass. "I wear my SOSpenders life jacket all day regardless of the time of year when it's rough, or when I'm alone. One thing I don't have that I'd like to add for safety is a ladder," he mentions. For the cold-water fishing he does, Steve also wears a flotation suit.
Clapper supports our other experts in carrying a cell phone and hand-held VHF radio. He also carries a good Danforth anchor on the end of 200 feet of rope attached by a four-foot chain. He adds an eighteen pound mushroom anchor at the front of the chain. "You can ride out some pretty big waves if you have to with a good anchor and enough rope by anchoring with your bow into the waves," Clapper notes.
"I've started and turned around before. I've got the respect for it." Clapper says, "I do have a lot of faith in my driving ability, but it's not worth putting someone's life in danger. The main thing when you get caught in the big waves is don't panic."
Modrak adds, "It's important to watch the weather" when planning to fish big water. "Don't write off the day too quick though. I watch the isobars. Maybe it's going to be a really bad morning, but the isobars are spreading out which indicates it may be a decent run back in later. If the isobars are staying close together, it will probably stay windy."
"If it looks like it will stay real rough, I try to work the calmer side of the lake I'm on," says Stricker, "if I have a choice. Otherwise, I'll try to run the troughs at an angle and keep the bow up. I don't try to go too fast. I think a hydraulic jack plate is real important for the big lakes. You can drop the engine down deeper and trim out a little more without blowing out the prop. I use a four blade prop to help keep a better grip on the water too."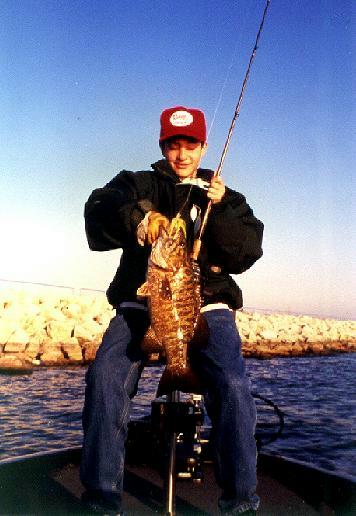 "A lot has to do with your partner, especially in draw tournaments," states Modrak. "If he is really uncomfortable or nervous about the conditions, it may not be wise to run." Modrak concludes with, "Overlooked by some anglers on the Great Lakes, if the weather changes, the same run can take a lot more time – doubling or tripling when it really gets blowing. Also, on some Great Lakes areas, Saginaw Bay in particular, you have to watch shallow water. If the wind blows up shallow water, you can easily bottom out your motor in the troughs. You could stall out and get in trouble."
Take these experts advice and you too can enjoy the great fishing in the Great Lakes and other big water safely. Just respect the water and come prepared with dependable equipment and the appropriate safety tools. You'll gain experience and confidence, hopefully while catching lots of those big bass out there.
Monster Great Lakes smallies like Bob Benavides' Saginaw Bay whopper wait for you as long as you can get to them and back safely.