---
---
About the Author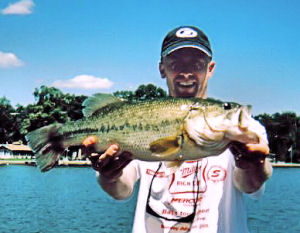 Andrew Buss is 28 years old and has been an English teacher at Knox Community High School in Knox, Indiana the past five years. He fishes competitively in 25-30 tournaments locally and has been fishing competitively the past 9 years.

Andrew is married to his wife, Nicki, and lives with their Yorkshire terrier, Glacier Bay, in North Liberty, Indiana.
| | |
| --- | --- |
| Drop Shot Hooks Angler | by Andrew Buss |
---
Okay, I can admit it. I'm not too proud of a man to admit when I'm wrong. And boy was I wrong. When I first saw a drop-shot rig, I thought the inventor must have been nuts. Sure, maybe perch, bluegill, crappie, or an occasional dink bass would knock this thing out, but 5-pound smallmouth bass? Give me a break. What lunker bass is going to bite a little worm wiggling aimlessly 2 feet above the bottom on 6-pound test line with a weight under it? Well, I'm now here to say that break aforementioned has officially been delivered to me.
The truth; I grew tired of getting my tail kicked by guys using this little fish rig. I had to swallow my pride and fish this little rig myself. More truth; like most anglers, I don't care what it takes to catch fish, and this rig catches fish. Now with some experience and a greater appreciation for this little fish tactic, I'm an improved angler. Lucky for me too, I've had some help putting this rig together.
I contacted two of the more proficient anglers in the Great Lakes region (and fellow GreatLakesBass.com members) who have proven their prowess with this technique. Steve Clapper of Lima, OH has won over $100 grand in the Stren and BFL leagues while Heath Wagner of Angola, IN has won nearly 7 thousand dollars on the Michigan BFL circuit in just the past three years tossing this rig. Their frequent 20-pound sacks and 5 pound smallies on Lake Erie and Lake St. Clair are evidence enough for me. One of the most challenging aspects about this rig though is that the varieties of presentations are boundless.
It was just this past summer that I began experimenting with the drop shot. I had caught some fish with it previously, but during a small club tournament I was getting skunked. I threw everything in the tackle box with no success. Finally, I picked up my drop shot, backed off the ledge, and immediately began catching fish. I started doing the right thing too late to win a check, but managed a respectable finish that gave me some valuable points to stay towards the top of my club standings. It was this day that I got hooked to it.
Speaking of variety, while I was getting hooked using a three inch Senko, Steve Clapper put the drop shot on display this summer by winning the Michigan Division Super BFL and the Canadian Fishing Tour Pro Open (jackpot of $35 grand) with a Poor Boy's Goby, and Heath Wagner posted two top-ten finishes in the same BFL division throwing the drop shot rigged with worms. Bait variety is one of the greatest aspects of this rig as Steve Clapper says; "I am a firm believer that whatever you use for bait on your drop shot, it is okay. I have seen lizards fished wacky on a drop shot and produced, so use your imagination."
The most commonly used baits on a drop shot include a variety of finesse worms. Wagner, who has qualified for the BFL regional all three years he's participated, often prefers beginning with finesse worms, "I almost always use a finesse worm of some sort for my drop shots." While these baits consistently produce fish, they are not the only option. Wagner continued, "If the fish are feeding good and not timid, it is hard to beat a five inch Senko." Clapper, winner of seven BFL tournaments and sixteen other top 10 finishes, also experiments but admits, "The Poor Boy's Goby will be my first pick! The Goby has been my bait of choice since its inception. Poor Boy's Baits has done a great job with colors and the addition of the rattlin' eye version."
Bait selection is important, however any bait can be productive with the right conditions; having an open mind, being diverse, and having a willingness to change is necessary to consistently catching fish with a drop shot rig. Begin with a finesse worm and adjust accordingly to your level of success.
The distance between the bait and weight also varies between anglers, but both Clapper and Wagner agree that the fish should ultimately determine the setup. As with bait selection, it is sometimes necessary to try different things until the fish bite. Both anglers begin tossing the drop shot with a short distance between the hook and weight: somewhere between twelve and twenty inches. However, a good sonar unit can give clues about the distance you should be using. If your sonar graph shows fish suspended off the bottom, don't be afraid to make that distance even longer as Wagner once learned at a classic tournament with his brother, "We noticed the fish were suspended just off the break in 10 feet of water, but they were coming onto the flat to feed. He decided to try a 5-foot leader to get closer to their face. Well, in a matter of thirty minutes he finished our limit and began culling fish."
Clapper has also lengthened his leader up to three and a half feet but has also had days where four to six inch increments made a big difference. Thus, Clapper adds, "The distance between the weight and hook is a trial and error deal. It can be very critical."
The tackle used is also critical and varies. Both Clapper and Wagner use 1/0 or 2/0 hooks depending on the size of bait used, however, Clapper uses a Gamakatsu split shot/drop shot hook while Wagner prefers an Owner mosquito hook. The weight used on the bottom also varies accordingly to conditions. A general rule of thumb is the deeper the water the heavier the weight. In water shallower than ten feet a 1/4 ounce weight or lighter is recommended.
However, Clapper, who boasts seven top 10 finishes in Stren Series events, has experienced that heavier weights, 5/8– 3/4 ounce, in shallow water can create reaction bites from fish. Overall, tungsten seems to be the popular pick among anglers who need increased sensitivity as Wagner points out, "If you want feel, tungsten is the way to go." Nevertheless, he admittedly uses bell sinkers that can be purchased at any tackle shop.
Clapper is a bit pickier, "I like a cylinder drop shop weight opposed to the round weight because I believe it hangs up less." Whatever your preference is, don't be stubborn; the size of weight demands attention and should also be changed to fit conditions.



Fig. 1: Upper L - Owner 1/0 Mosquito hook; Upper R - cylinder sinker; Middle - standard swivel; Lower L - #1 Gamakatsu split shot/drop shot hook; Lower R - bell sinker

One aspect of the drop shot rig that these two anglers do not agree upon is the use of a swivel. Considered by many as the best Lake Erie angler alive, Steve Clapper "always" uses a swivel made by S Pro between the main line and leader; however, Heath Wagner, who has won over four thousand dollars the past two years in local tournaments with the drop shot, errs to the side of caution, "I never use a swivel, it is only another point for the line to break." Clapper counters that the swivel will prevent line twist, "In drop shotting, without the swivel, you get tremendous line twisting, so the little swivel nullifies the line twist."

Clapper acknowledges that re-rigging a drop shot can take up precious time; therefore, he has learned to prepare before getting on the water: "I tie the swivel to an approximately 30 inch piece of leader material, tie the hook approximately down 12 inches from the swivel, then wrap them on a tackle buddy (walleye fishermen use these for their leaders) then all I have to do is tie the swivel to the main line and add my sinker. In tournament conditions this will save you valuable time!"
As with all facets of the drop shot, there is not a definite rule about the use of a swivel. If you choose not to use a swivel, it will be necessary to straighten out your line more often. Ultimately, an angler should go with the style that brings him or her the most confidence.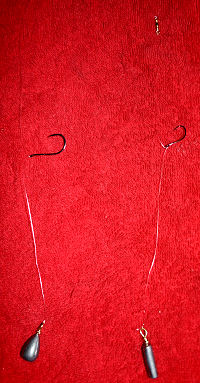 Fig. 2: The left example is a mockup of a Heath Wagner drop shot rig - no swivel and an Owner mosquito hook suspended above a bell shaped sinker. The right example is a mockup of a Steve Clapper drop shot rig - a swivel with a Gamakatsu split shot/drop shot hook and cylinder sinker.
With a vertical presentation, such as a drop shot, bites are rarely seen and are difficult to detect. Sensitivity then becomes an important component. There are several things an angler can do to increase sensitivity beginning with their fishing line. Using a tungsten weight is one way, but there are also other tricks. Most anglers agree that the drop shot requires fluorocarbon line. In appearance, the line is obvious on a drop shot rig, thus another advantage of fluorocarbon line is its near invisibility produces more bites.
Nevertheless, fluorocarbon line also gives extra sensitivity. It does have some disadvantages though. Wagner, who has amassed four top 10 BFL finishes in just three years, explains, "The way a drop shot is set up will normally get it cut up on the bass' teeth on nearly every fish." Certainly, breaking off fish can be a chronic problem for the unprepared angler. A habit anglers should get into to avoid losing fish is to check their line often and consider retying their hook after each fish. Wagner continues, "All fluorocarbon has a tendency to abrade and become weak, so checking line after each and every fish is very important."
To increase sensitivity even more Clapper and Wagner use rods that have a little more backbone, or heavier action. Clapper is so particular about his G Loomis 904 rod, he has it cut down to 7'2". He explains that this enables it to have a soft tip but still enough backbone to fight big fish and feel subtle bites. Wagner uses both spinning and baitcasting St. Croix rods that are either medium heavy or heavy action. These rods serve the same purpose as Clapper's.
Having a good drag on a reel is especially important as well. Not only can a fish knick up the line, but also the strength of line is often less than 10 pound. Combining that with the strength of a big fish can spoil a day in a hurry. Thus, the combination of a forgiving rod and a smooth drag is a must. Both Clapper and Wagner use a Shimano 2500 Stradic reel on their spinning rods because of its smooth drag. Wagner also uses a Shimano Curado reel on his baitcast rod because of its drag as well.
A drop shot rig excels in deep, clear, and heavily pressured water. Wagner and Clapper have had great success with this rig on the Great Lakes, in part because they often face these situations there. However, this is not the only time or places a drop shot will work. Steve Clapper explains, "The drop shot for me is mainly a deep water technique, but I have had many cases in 10'- 15' of water where it has been extremely effective."
Clapper relates an experience on Lake Champlain when he caught fish on a drop shot rigged with a 4-inch Senko and snapped it like a jerkbait. This worked when more conventional shallow water techniques failed him. Heath Wagner has success with this rig around shallow weedbeds and bass defending their nests during the spawn. When fishing shallow he suggests, "…give it a lot of shake to draw their attention."
The drop shot has also been gaining favor from anglers nationally during the spawn when the bass are defending their nests. The nature of the rig allows anglers to keep the bait in the strike zone for an infinite amount of time. Wagner was using this tactic for a number of years before it got its name. He explains, "It works very good on spawning fish. You are able to put the weight in their bed and shake the bait right in front of their face with this technique." Oftentimes, wiggling the bait on the nest will create a reaction bite. Although this technique is normally considered a deep-water tactic, it can also be effective in shallow water.
Just like choosing the bait, tackle, and leader, the way you fish this rig is equally diverse. At times it is best to keep the bait completely still, while other times it is best to give the bait a little shake or a lot of shaking. Sometimes you can begin using general principals of other lakes as Wagner explains, "For Great Lake smallies I generally give no or little motion to my bait. I like to just hold it still and slowly drag it. For largemouth in our natural lakes and rivers a little quiver never hurts, but day in and day out I get more bites with a dead still technique."
Clapper elaborates further, "I don't think there is a right or wrong way to fish the drop shot. I have had times where the fish seemed to like a lot of shaking and times just a little and times when they want it still. You just have to experiment and find the mood of the fish for the day." Clapper, who has also accumulated two top 10 finishes on the Canadian Fishing Tour in just six attempts, suggests to anglers, "It is very important to concentrate and remember what you were doing when the fish bit and duplicate it your next cast. Sometimes the little things make the difference."
Although generally considered a deep-water technique in warm weather with worms, as proven, the drop shot can be much more diverse. In 2006, this technique helped me become a better angler. But on a larger picture it has proven itself in wins across the country including the B.A.S.S. Elite Series Tournament on Table Rock Lake, BFL tournaments, and countless local events. As evidenced above, the techniques and ideas with this rig are unlimited. Consider applying some of your favorite baits and fishing knowledge with it. Keep an open mind when using it as Steve Clapper and Heath Wagner have done; let the fish tell you what they want and become a better angler with the drop shot rig.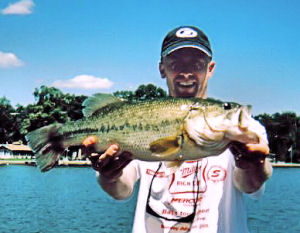 About the Author - Andrew Buss

Return to Articles Index
Return to Top
---
Featured Affiliate Offers
---






---