---
---
Official GreatLakesBass.com Website Sponsor Advertisers*
---
GreatLakesBass.com

receives invaluable support from these advertising sponsors - companies that help make the continued operation and improvements possible. Please remember to consider these businesses when making your purchase and service choices.

When you do visit these companies, please let them know that you appreciate their support of GreatLakesBass.com. Without them, we can't continue to grow and improve. Thanks.
Category Exclusive Sponsors

Worldwide Marine Underwriters Inc


Welcome Worldwide Marine Underwriters and

Bob Luellen

to GreatLakesBass.com as our

exclusive marine insurance expert. Get more and better coverage for less money!



Bob Luellen is a fellow angler I've known many years. Bob founded Worldwide Marine Underwriters (WWM) and has made it the premier marine insurance underwriter licensed in 48 states as an agent and agency, representing over 25 different insurance companies.

I'm excited about this arrangement because WWM, with Bob's leadership, is the #1 marine performance boat insurance company. Bob has the industry expertise all of us can use to fully understand the different types of coverage. He wants to share that valuable knowledge with all GreatLakesBass.com members and visitors.


Bob and WWM can definitely help you get the most out of your insurance and save you some of your hard-earned fishing money.

There are many discounts and adjustments that general insurance companies may not give you or alert you to.

Bob is an expert on what is available and what you qualify for, and understands our special needs.




Get a quick quote from Worldwide Marine


For general questions, visit the Bass Boat Insurance 101 board on our forum, or for more personal information specific to your situation, please call or email Bob using the contact info to the right.

Worldwide Marine Underwriters, Inc.
15200 S. Wright Road • Suite 4
Grand Ledge, Michigan 48837
Toll Free: 800-339-1235

---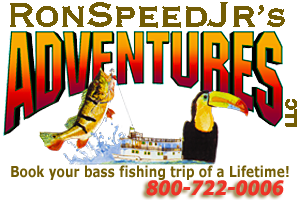 Welcome to Ron Speed Jr's Adventures. Ron Speed Jr's Adventures is the exclusive outfitter to GreatLakesBass.com for trophy black bass fishing in Mexico and trophy peacock bass fishing in Brazil!!
Whether it's catching trophy sized peacock bass in Brazil's fabled waters of the Amazon or landing a giant bucket mouth black bass on a beautiful lake high in the Sierra Madre mountains of old Mexico that delights you, look no further than Ron Speed Jr's Adventures!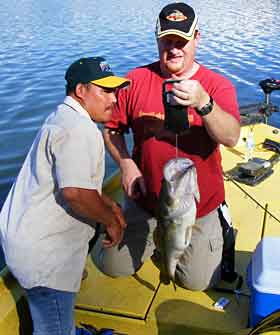 Ron Speed Jr has decades of experience bringing you a safe and successful adventure of a lifetime. All fishing guides are local lake experts who put you on bass. Lots of bass and BIG Bass! If you're a bass angler, you owe it to yourself to make at least one bass fishing trip to Lake Comedero, Lake Picachos or El Salto.

I prefer the remote and exciting fishing at Lake Comedero personally, but it's all great. Fantastic dove hunting available too in Mexico and now Argentina. To get a taste of this amazing opportunity, check out the GreatLakesBass.com Mexico Bass Fishing section!
Additional Mexican Bass Trip Info
About Your Mexico Bass Fishing Trip – Camp and Boat Information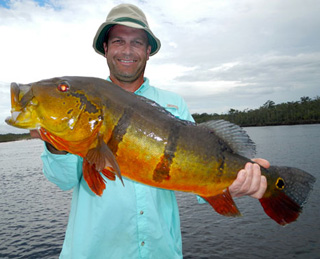 Ron Speed Jr. uses the amazing Amazon Otter – the premier river boat on the Amazon for complete comfort while you chase the world record size peacock bass of the Rio Negro! Here's GreatLakesBass.com member Scott Dobson with a big 21 pound peacock he landed on the January 2012 trip! Every trip to the Amazon jungle is a true adventure of a lifetime! Peacock bass hit and fight like nothing else in freshwater! You'll never forget these awesome fish! Visit GreatLakesBass.com/Amazon for more information and details on the next available trip!
Call Ron Speed Jr's Adventures and Ron Speed Jr. at

800-722-0006

(Ron Speed Adventures) now!! Visit Ron Speed Jr's Adventures on the Internet at www.ronspeedadventures.com.
---
Promotional Sponsors

Sold by Professionals. Rigged by Professionals. Trusted by Professionals.



D & R Sports Center and D & R Boats.com



D & Sports Center


8178 W Main Street
Kalamazoo MI 49009


269-372-2277





For Nitro, Ranger, Triton, or Tracker Fishing Boats powered by Mercury visit Michigan's Bass Boat Superstore! D & R Sports Center! Awesome fishing tackle selections and outdoors gear for all your outdoors needs!





---




Matteson Marine - 'BUILDING MEMORIES'



12001 Marsh Rd
Shelbyville MI 49344


269-672-5292


www.MattesonMarine.com





'BUILDING MEMORIES'

with Lund Fishing Boats powered by Yamaha, Mercury, Evinrude or Honda motors. Located on beautiful Gun Lake, Matteson Marine will be happy to help you with all your boating needs. Call

Vaughn Mills

- Tell him GreatLakesBass.com sent you.

---




BECAUSE WE FISH!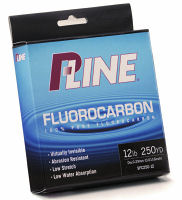 Whether you are a tournament competitor or a weekend enthusiast you can depend on P-Line to demonstrate superior strength, great castability and abrasion resistance that is unsurpassed on the water. Combining their experiences in copolymer and fluorocarbon technologies, P-line is on the leading edge of quality, high-performance fishing lines. P-Line also supplies other quality fishing products - see below!

Now's your chance to find out as P-Line has come on as a sponsor of the GLBass.com forum bass fishing message boards to help things keep growing so we can bring you everything you like. Please take a few minutes to check out everything P-Line has to offer all anglers.
P-Line Fluorocarbon / Co-Fluoride Fishing Line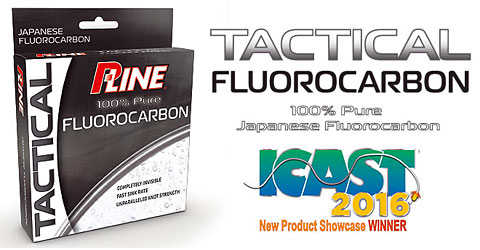 Premium Tactical Fluorocarbon
Your success as an angler starts with the tactical decisions you make long before you get to the water. You need every advantage possible to compete with the serious anglers of today and to catch those big, wily bass! That starts with your line! Longer casts and extreme invisibility are just a few of the benefits you get when you spool premium P-Line Tactical Fluorocarbon. Because Tactical is derived using the latest in raw material and extrusion advancements you know you've spooled with the strongest, most durable fluorocarbon available. Available in 6-20 Lb. Test in 200 yard spools. Buy P-Line Tactical 100% Pure Fluorocarbon
P-Line Fluorocarbon
P-Line's original Fluorocarbon is extruded from the highest quality Japanese fluorocarbon crystals, ensuring the best knot and breaking strength available in a soft fluorocarbon line. As the educated angler knows, fluorocarbon has a refractive index very close to that of water, making it invisible once it enters the water. Because of its inherent qualities, this line absorbs very little water giving it great knot strength. The low stretch factor increases sensitivity so you feel the lightest strikes. Available in 2 to 20 Lb. Test in 250 and 2000 yard spools. Buy P-Line Fluorocarbon Fishing Line
HALO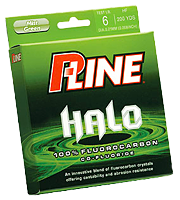 P-Line HALO - the union of unmatched proprietary extrusion technology coupled with the finest raw materials available has produced P-Line HALO Fluorocarbon; the first Co-Fluoride introduced into the United States. In a tireless effort of research and development, P-Line has engineered the next generation of fluorocarbon fishing line by introducing HALO Co-Fluoride. Different fluorocarbon crystals have different characteristics. With HALO, P-Line has blended different types of pure fluorocarbon crystals, giving anglers the best combination of strength, sensitivity, and castability in the best all purpose fluorocarbon line available - a personal favorite of mine!

Because Halo is 100% pure fluorocarbon it has a low refractive index making it invisible underwater. The specific gravity is much higher than traditional fishing lines giving the line a much faster sink rate. Halo comes in a new translucent low visibility Mist Green color, optimum for lakes, rivers, and inshore saltwater applications. HALO is available in mist green, and comes in sizes 4 to 20 pound test in 200 and 2000 yard spools. Buy bulk P-Line Halo Fluorocarbon Fishing Line - Mist Green - 2000 Yards - 10 lb.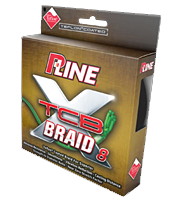 P-Line Braided Fishing Line
XTCB-8
By using 8 strands of fiber during the braiding process P-Line XTCB-8 braided Spectra fishing line is extremely tight and compact. The benefit to the angler is an ultra smooth finish and the ability to retain its round shape while having a smaller diameter than traditional braids. Add the benefits of DuPont's Teflon® Surface Protector for awesome abrasion resistance, great knot strength and reduced friction, and you have the best braided "Superline" available to the angling community. Available in 10 to 80 Lb. Test. 150 and 300 yard spools in low visibility green. Buy P-Line XTCB-8 Braided Fishing Line
XTCB-8 High Vis Yellow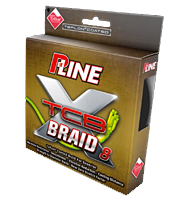 P-Line XTCB-8 High Vis Yellow braided Spectra fishing line is a Teflon® Coated braided line which features DuPont's Teflon Surface Protector. It has more abrasion resistance, flows through the guides with less friction and allows for longer casting. XTCB-8 is constructed using 8 strands of fiber during the braiding process making it extremely tight and compact with an ultra smooth finish. XCTB-8 retains its round shape while having a smaller diameter than traditional braids. Many angling situations require a high visibility line. With the success of XTCB-8 in the low vis green, expanding the product family with a more visible line was a natural development. From fishing in the Keys, to casting into the surf, or float fishing a river, anglers are going to love the performance and versatility of this product. Available in 10, 15, 20, 30, 50, 65 and 80 pound test in 150 or 300 yard spools.
P-Line Copolymer Fishing Line
P-Line CXX X-Tra Strong
CXX X-Tra Strong is the toughest, strongest, most shock resistant line on the market. If you're looking to throw into nasty cover for largemouth there is only one line to trust. Tournament anglers and guides alike choose CXX because of the abrasion resistance and its high strength to diameter ratio. With 5 colors to choose from, you're certain to have the perfect shade for any condition. CXX comes in sizes from 2 TO 125 Lb. Test in reel fill, quarter pound and bulk spools (yards of line varies from 300 to 3000 depending on line size).
CRYSTAL CLEAR - More anglers prefer clear line than any other color, which made CXX X-Tra Strong in the Crystal Clear color a natural choice. Perfect for any water condition. Buy P-Line CXX X-tra Strong Copolymer - 370-600 Yards
HI-VIS CLEAR FLUOROSCENT - The HI-VIS Clear Fluorescent line was introduced to perform under some technique-specific conditions, such as night fishing under a black-light or when an angler must watch the line to detect strikes (flipping and drift fishing).
MOSS GREEN - Salmon and steelhead fishermen along with tournament bass anglers prefer this stealthy, translucent moss green color. Buy P-Line CXX X-tra Strong Copolymer - 260-300 Yards
SMOKE BLUE - Smoke Blue was introduced to give anglers the opportunity to match specific saltwater conditions.
FLUORESCENT GREEN - This bright fluorescent green line has been developed to meet the demands of anglers who need to manage their line while out on the water. Buy P-Line CXX X-tra Strong Copolymer - 1300-3000 Yards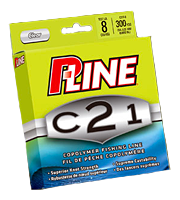 C21
C21, the latest addition to the P-Line family, is sure to raise the bar of what anglers can expect from an economically priced fishing line. The ultimate goal of our engineers was to create a line that bridged the gap between two of our most popular lines, CX-Premium and CXX X-Tra Strong, while maintaining a great price point. A copolymer line made with two types of nylon from Japanese raw materials and technology, C21 synergistically creates the ultimate line for spinning or bait casting reels, without putting a big dent in your wallet! C21 delivers great castability with a soft construction that literally flies off the reel with virtually no memory. Buy P-Line C21 Copolymer Fishing Line - Clear - 17 lb.
Voltage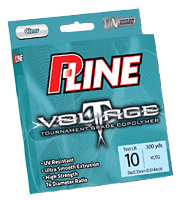 Voltage is a tournament grade copolymer fishing line extruded with P-Line's proprietary UV-Guard technology. By adding a UV inhibitor during the extrusion process, they've built a line that shields the sun's destructive rays ensuring a much longer life on your reel without losing valuable breaking strength. It's always been a challenge to find the perfect line with just the right amount of abrasion resistance, castability and breaking strength without having to go to the extreme of using a small or large diameter line. All of these features were taken into consideration when they developed the specifications for Voltage. Whether you're loading a spinning reel to fish the flats, or putting 10 baitcasters on the deck of your bass boat, Voltage is a fishing line that will easily find your trust and a place in your tackle arsenal. Available in 4 to 30 Lb. Test in 300 and 3000 yard spools (260 yards for 30 Lb. Test reel fill). Buy P-Line Voltage Tournament Grade Copolymer Fishing Line - 3000 Yards - 12 lb.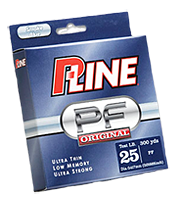 PF Original
When P-Line PF Original was first introduced to anglers in the United States, a new era in copolymer fishing line technology emerged. With its small diameter and a soft supple finish P-Line Original became an instant hit with both saltwater and freshwater fishermen, who for the first time were realizing the advantages a high quality copolymer line delivers. A supple line allows for increased castability with both spinning and conventional tackle, permitting better coverage of the water. P-Line Original's smaller diameter gives anglers increased spool capacity while maintaining a high breaking strength while enhancing the presentation of your bait. Buy P-Line Original Copolymer Fishing Line - 12 lb.
P-Line Fluorocarbon Coated Fishing Line
CX Premium
P-Line's CX Premium Fluorocarbon Coated Line is one of the most innovative lines available, combining copolymer and fluorocarbon technologies. With low memory and improved limpness, CX Premium eliminates spinning reel line nightmares, and improves casting distance for baitcasting reels. The fluorocarbon-silicone coating virtually eliminates water absorption, so cold water and weather have little effect on line performance. With as much as 30% less stretch than average lines, it has increased sensitivity to detect and react to even the most subtle strikes. This great all-purpose premium line is available in Clear Fluorescent, Moss Green and Hi-Vis Fluorescent Green, line sizes from 2 to 30 Lb. Test, 300 and 3000 yard spools (260 yards for 30 Lb. Test reel fill). Buy P-Line CX Premium Fishing Line - 1000 Yards
Floroclear
With Floroclear's fluorocarbon coating the line is virtually invisible once it enters the water. This gives anglers the advantage of a more stealthy presentation, which will guarantee more strikes and hookups. With a special silicone treatment, Floroclear has reduced memory and increased castability. This line just plain casts. Available in Clear and Mist Green, 2 to 30 Lb. Test in 300 to 3000 yard spools (260 and 2700 yards for 30 Lb. Test). Buy P-Line Floroclear Fishing Line - 600 Yards
or P-Line Floroclear Fishing Line - 300 Yards - 8 lb
P-Line Fishing Leader
CFX Leader
CFX Fluorocarbon Leader's refractive index makes it virtually invisible in the water. The most obvious advantage of using CFX leader is a more natural presentation to the fish. With its high abrasion resistance, low stretch factor and UV protectors it's no wonder that when it was introduced the American Sportfishing Association awarded P-Line CFX Fluorocarbon Best New Line Introduction of the Year. If you're after line-shy, leader-shy fish, using CFX Fluorocarbon can make the difference between excuses why they didn't bite, or the bragging rights of that catch of a lifetime! This could be the most important tool you in your fishing arsenal. Buy P-Line CFX Fluorocarbon Leader Material 27 YD Spool by P-Line
Shinsei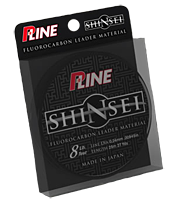 Not all fluorocarbons are created the same. To produce the perfect fluorocarbon you have to start with the best raw materials attainable, which is the foundation for their new Shinsei fluorocarbon fishing leader line. By using the purest, cleanest fluorocarbon crystals available they've produced the most invisible fluorocarbon on the market. After spending a tireless amount of hours in research and development with a team of Japanese engineers P-Line developed the perfect combination of strength, stretch and durability. The end result is a product which will absorb shock while having the attributes needed for tying the perfect leader, or creating the ultimate top-shot. Whether you're fishing for stealthy steelhead or ultra-clear water giant smallmouth bass, Shinsei is the clear choice for leader material. Available in 2 - 60 Lb. Test in 25 meter/27 yard spools. Buy P-Line Shinsei 100-Percent Pure Fluorocarbon Leader Material (25 meter, 20-Pound)
P-Line Floating Fishing Line
Hydrofloat
Hydrofloat is a Spectra-based braided fishing super line with a thermal-fused coating. Originally designed for float fishing for both salmon and steelhead, Hydrofloat can be used in many applications and works well on both spinning and baitcasting reels. The fused coating of Hydrofloat makes this line more buoyant than traditional Spectra lines. The fact that Hydrofloat has virtually no stretch allows an angler to have a positive hook-set on long casts with a high strength to diameter ratio. These benefits combine to make Hydrofloat the perfect line for topwater fishing! My personal favorit for sure, especially for walking the dog! Available in 10, 15, 20, 30 & 50 Lb. Test. Buy P-Line Hydrofloat Float Fishing Line 150 YD Filler Spool
P-Line Specialty Fishing Line
Floroice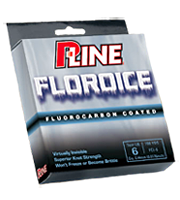 Floroice fishing line is a combination of copolymer with a silicon fluorocarbon coating. This unique blend resists freezing, and stays limp in the coldest of conditions. When you're heading out to hard water, there is only one line of choice, Floroice. Buy P-Line Floroice Fishing Spool (100 Yard, 4-Pound)
Other quality products include many hard and soft fishing lures including the P-Line Laser Minnow is a high quality jigging spoon manufactured with a unique holographic laser tape, creating an amazingly life-like finish. The oblong shape and sharp cuts on the side allow for an erratic action when jigged. Great colors make the smaller sizes of the Laser Minnow an excellent jigging spoon for bass! The Angry Eye Predator jointed minnow is great for species like snook, striped bass, lake trout, large bass, pike and muskie! The Angry Eye Predator can be cast, trolled and with a slow retrieve and a high rod tip you can work the bait on the surface.

P-Line offers many additional products to improve your fishing success including terminal tackle and bait boxes for bobber and stream fishing salmon and trout, Kokanee lures and terminal tackle, faceted and smooth glass beeds in clear and red and high quality brass and stainless steel barrel and ball bearing swivels, snap swivels and snaps. I'm a big user of Duolock Snaps for lures like crankbaits. Maximizes my lures action while making it quick and easy to change lures!




Above, one of the hot colors available for the P-Line PLM3/4-04 Laser Minnow, 3/4-Ounce, Chartreuse, Silver, Blue
jigging spoon, and a sampling of P-Line's high quality terminal tackle.
---



Kustom Kicker Jigs / 2KJigs.com
When an Ounce Counts!


About Kustom Kicker Jigs
Kustom Kicker Jigs spawned from the simple idea that there is no substitute for quality. Money spent on poorly assembled, mass-produced tackle made with the cheapest components is simply money wasted and fish lost. For that reason, you can be assured that every piece of tackle we manufacture is assembled, painted and packaged with the highest attention to detail and the best components we can find. Kustom Kicker is a veteran owned and operated company and all of our products are designed, developed and manufactured in house at our shop in Michigan.
The 2K Jigs Mission
Your satisfaction is our number one priority. We are committed to producing hand made quality fishing products in large quantities to keep up with your demand. Our focus is to constantly add new products to our line, with extreme attention to detail and ingenuity. Our goal is to competitively price products to meet industry demands for our customers, distributors and retailers.
The 2K Jigs Guarantee
Our products are guaranteed for your approval and 100% satisfaction. You may return anything purchased from us at anytime if it proves otherwise. We will replace it or allow you to exchange it for another product. We want everything from Kustom Kicker Jigs to reflect our devotion to producing the absolute best products.
Online Deal for GLBass Members!
Shop direct online with 2KJigs.com and use code GLB10 when you checkout to SAVE 10% on your orders!!
You can find Kustom Kicker Jigs on Facebook too!
---

Case Plastics
- Click to go to the Case Plastics Info Page or go directly to CasePlastics.com
---

About RecLending.com Your Source for Marine Loans and Warranties: We are three guys with the same basic interest, fishing, hunting and being outdoors. Our over 55 years of history in the boat business includes, retail, wholesale and finance. Over the years we have seen too many guys and gals not get the boat they wanted because of financing. We do not have a magic wand but will work hard to get you on the water. WE ARE NOT BANKERS, but we have stayed at a Holiday Inn Express. We also handle extended warranties and some are available for boats you already own. We look forward to serving you,
Ken, Todd & Chris.
If you have questions about the above topics, you can ask them on the new Boat Loans 101 or Extended Warranties 101 forum message boards or contact RecLending.com directly for boat loans, service contracts and extended warranties at:

Ken LaMain
RecLending.com
(Trinity Sales & Marketing Inc)
6352 E Spicerville Hwy
Eaton Rapids MI 48827
517-930-2721 & 517-543-6921
Fax: 734-795-4115



---

About Angling A.I. It's ArtiFISHal Intelligence!: Visit Angling AI for your aluminum fishing mold and custom bait design needs. Our flagship mold, "The Alpha Craw", was designed as a flippin' bait that allows a 4/0 straight-shanked hook to stay skin hooked and take the abuse of going through heavy vegetation. The Alpha Craw also holds a 4/0 EWG hook very well.

Although most of it's time in the water has been spent attached to a 1 ounce tungsten weight, it has also caught many fish on a texas rig! The baits are from a prototype mold and inject very well for not having any air reliefs in yet.

Angling AI lets the do-it-yourself individual or custom lure maker create unique lures and colors to give you or your customers an edge! Swimbaits, stick worms, tubes, craws, creature baits, worms, grubs and more!
Angling A.I.
Visit the AnglingAI.com website or for questions contact owner Josh Clark directly:

E.A.R.S. Sun Gear
About E.A.R.S. Sun Gear
I never thought it would happen to me! Yep, Basil Cell Carcinoma. One day a spot appeared on my right cheek below my eye.

It was diagnosed as basil cell carcinoma. After a couple of scares like that I did some research. I found that the tops of my ears were also at risk. I was shocked to learn that tops of the ears are the third most prevalent area men over 55 get this deadly skin cancer. That's why I created E.A.R.S. Sun Gear.

Always Making Shade,

Tom Paquette



Made in the U.S.A.




Ear Armor Repels Sun



---
---

Featured Affiliate Offers
---





---